Welcome to the Corvair Forum!
For help in finding local Corvair support and mechanical assistance, your best bet is to contact (and possibly join) the local CORSA club chapter. They can probably provide the best local information and guidance concerning your Corvair.


https://www.corvair.org/index.php/compo ... =9&reset=0
There are several CORSA (Corvair Society of America) club chapters in Washington. CORSA clubs vary with membership participation, but generally they are helpful, family-friendly groups who organize meetings, picnics, car shows, competitions, scenic drives and technical training sessions. In comparison with websites like the Corvair Forum, the CORSA chapters are local in nature and represent "the other side of the coin" in obtaining Corvair support and guidance. Face-to-face contact with like-minded Corvair owners can be very helpful, and can increase your enjoyment of your Corvair.
Corvairs Northwest
(12 Miles) Tukwila, WA

https://www.corvairsnorthwest.org/
Corvairs Northwest is one of the biggest and most active Corvair Clubs on the west coast – with many interesting get-togethers for our members throughout the year.

In addition to our monthly meetings at Sizzler in SouthCenter and our board meetings at Tatoosh Grill in Fife – We get together in February with our sister club North Cascades Corvairs for the Sweetheart Cruise tour and gathering. Each year we enjoy a Spring Tune-up Day when we meet at Kent Sullivan's fabulous Corvair Garage which has a car lift open to our members for tune-ups and minor repairs. Then in April or May one of the 7 Northwest regional Corvair clubs hosts a Corvair Econorun tour with a car show and banquet included. June is our club picnic at one of our member's home – providing lots of Corvair conversations and tire kicking opportunities. In July we host our own unique Orphan and Discontinued Car Show at the beautiful showgrounds at Griot's in S. Tacoma We feature a large variety of seldom-seen 20th Century vehicles through 1990
North Cascades Corvairs
(61 Miles) Mt Vernon, WA

http://northcascadescorvairs.org/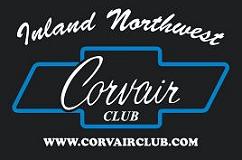 Inland Northwest Corvair Club
(279 Miles) Spokane, WA

http://www.corvairclub.com/
Columbia Basin Corvairs
(203 Miles) Richland, WA

https://columbiabasincorvairs.org/

I would like to encourage you to expand on your initial post and tell us more about yourself, your Corvair interests, and your goals for your Corvair. If you can describe your personal assessment of your mechanical skills and abilities, that would help a lot. Members of the Corvair Forum love to be helpful in assisting other Corvair owners with technical support and advice, but it helps a lot if we have some understanding of your technical background and mechanical abilities, Corvair-related knowledge, etc. Helping us to know more about you will help us to write comments to you that are tailored to your needs and experience. Some detailed photographs of your Corvair would be great!
The link below will provide you with a list of useful websites that are Corvair-related. Some of the links will lead you to an extensive technical library that will allow you to download shop manuals and other technical references in
Adobe Reader
format at no cost. There is also a link that will help you to locate nearby CORSA (Corvair Society of America) club chapters. You will also find a list of essential Corvair parts suppliers. Clark's Corvair Parts in Shelburne Falls, MA is the biggest and oldest Corvair supplier in the world. You will find a link that can provide you with a series of videos that amount to a tour of the Clark's Corvair Parts facilities. Parts suppliers such as this truly make our Corvair hobby possible.
Common and Useful Corvair Websites

viewtopic.php?f=225&t=6007