Welcome, Steve, to the Corvair Forum!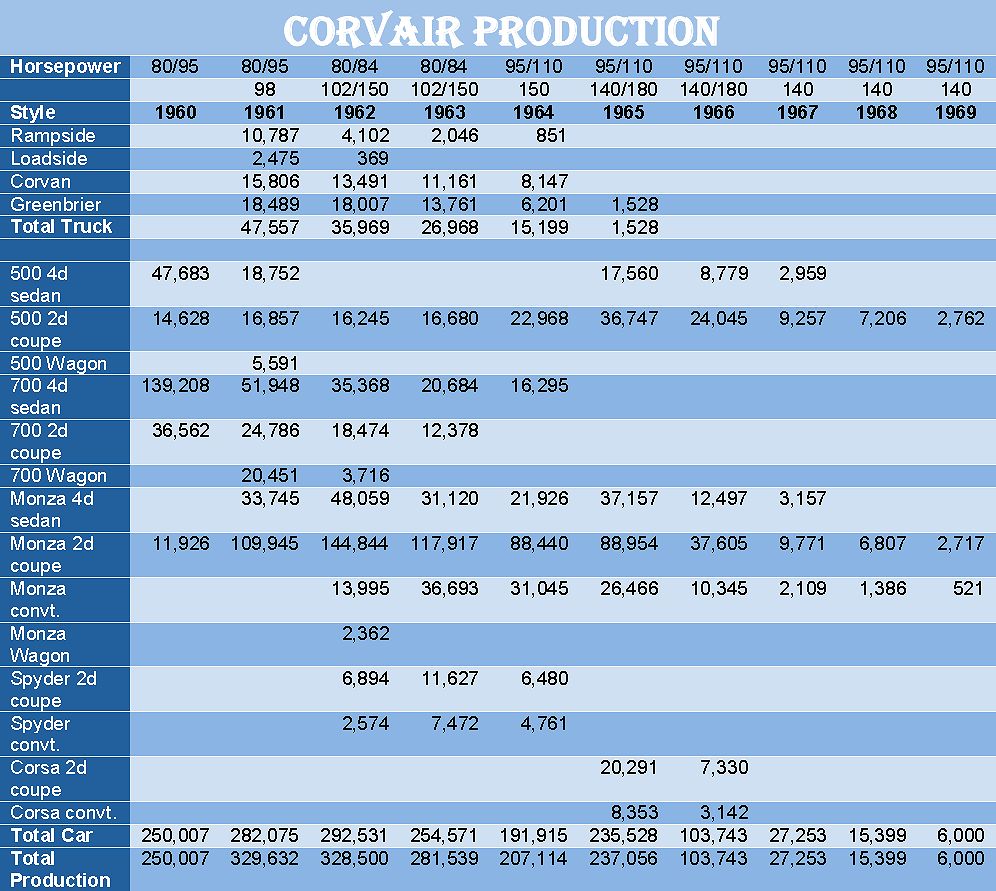 The link below will provide you with a list of useful websites that are Corvair-related. Some of the links will lead you to an extensive technical library that will allow you to download shop manuals and other technical references in
Adobe Reader
format at no cost. There is also a link that will help you to locate nearby CORSA (Corvair Society of America) club chapters. You will also find a list of essential Corvair parts suppliers. Clark's Corvair Parts in Shelburne Falls, MA is the biggest and oldest Corvair supplier in the world. You will find a link that can provide you with a series of videos that amount to a tour of the Clark's Corvair Parts facilities. Parts suppliers such as this truly make our Corvair hobby possible.
Common and Useful Corvair Websites

viewtopic.php?f=225&t=6007
I attempted to do some research to see how far Cassville, Missouri is from the world (of Corvair owner's clubs, that is). There are several CORSA (Corvair Society of America) club chapters in your region, but unfortunately all are a fairly long drive from your corner of Missouri! In spite of the distances involved, I would like to encourage you to check them out and consider visiting/joining one of them. Socializing with local like-minded and family-friendly Corvair enthusiasts can greatly add to your enjoyment of your Corvair. The technical assistance, advice and support you will find from contacting local owners and from members of the Corvair Forum on the Internet will help you a lot with Corvair ownership.

https://www.corvair.org/index.php/compo ... =9&reset=0
Heart of America Corvair Owners
179 Miles - Belton, MO

http://www.hacoa.org/
Show-Me Corvair Club
267 Miles - Arnold, MO

http://www.showmecorvairclub.org/
Mid-Continent Corvair Assn.
244 Miles - Bel Aire KS

http://www.corvair.org/chapters/chapter672/
Green Country Corvair Group
147 Miles - Broken Arrow OK

https://tulsacorvair.com/
Central Oklahoma Corvair Association
253 Miles - Oklahoma City, OK

http://www.cokcca.org/
Arkansas Corvair Club
248 miles - Little Rock, AR

https://www.arcorvairclub.org/

I would like to encourage you to expand on your first post and tell us more about yourself, as well as about your 1963 Monza coupe. Some detailed photographs of the car — including the VIN tag (driver's side door jamb) and Body Tag in the engine compartment — can be very helpful. If you can provide your personal assessment of your mechanical skills and abilities, that would help a lot. Members of the Corvair Forum love to be helpful in assisting other Corvair owners with technical support and advice, but it helps a lot if we have some understanding of your technical background and mechanical abilities, your Corvair-related knowledge, etc. Helping us to know more about you will help us to write comments to you that are tailored to your needs and experience.