The PRESS/TEMP warning light receives 12 VDC from the Ignition Switch circuit whenever the key is in the ON position. The light illuminates when it is grounded — usually when the engine has not been started and the oil pressure warning switch provides the ground to test the bulb. When the engine is started the oil pressure switch opens when subjected to oil pressure, turning the warning light off.
Your initial troubleshooting step to disconnect the oil pressure switch and the temp switch in the right cylinder head was a corect step to take, to determine if the ground was coming from one of these (possibly faulty) switches. Since disconnecting both switches failed to remove the ground from the circuit, you must continue to trace the wire back toward the instrument panel to locate the source of the ground that is causing the bulb to come on.
I would start with the 20 DBL single wire connector that is shown in the illustration below. The harness travels from the oil pressure switch [3], through the sheet metal to the cylinder head [2], and then back out to the connector that ties to the main engine compartment harness. It is somewhat common for the wire to be improperly routed through the sheet metal near the distributor, creating the possibility that an improperly routed wire has been pinched or had the insulation cut where it is passing through the sheet metal to/from the cylinder head. if the insulation has been damaged, it could be shorting to ground via the engine sheet metal. If this is true, unplugging the wire connector where it enters the main harness would turn the warning light off.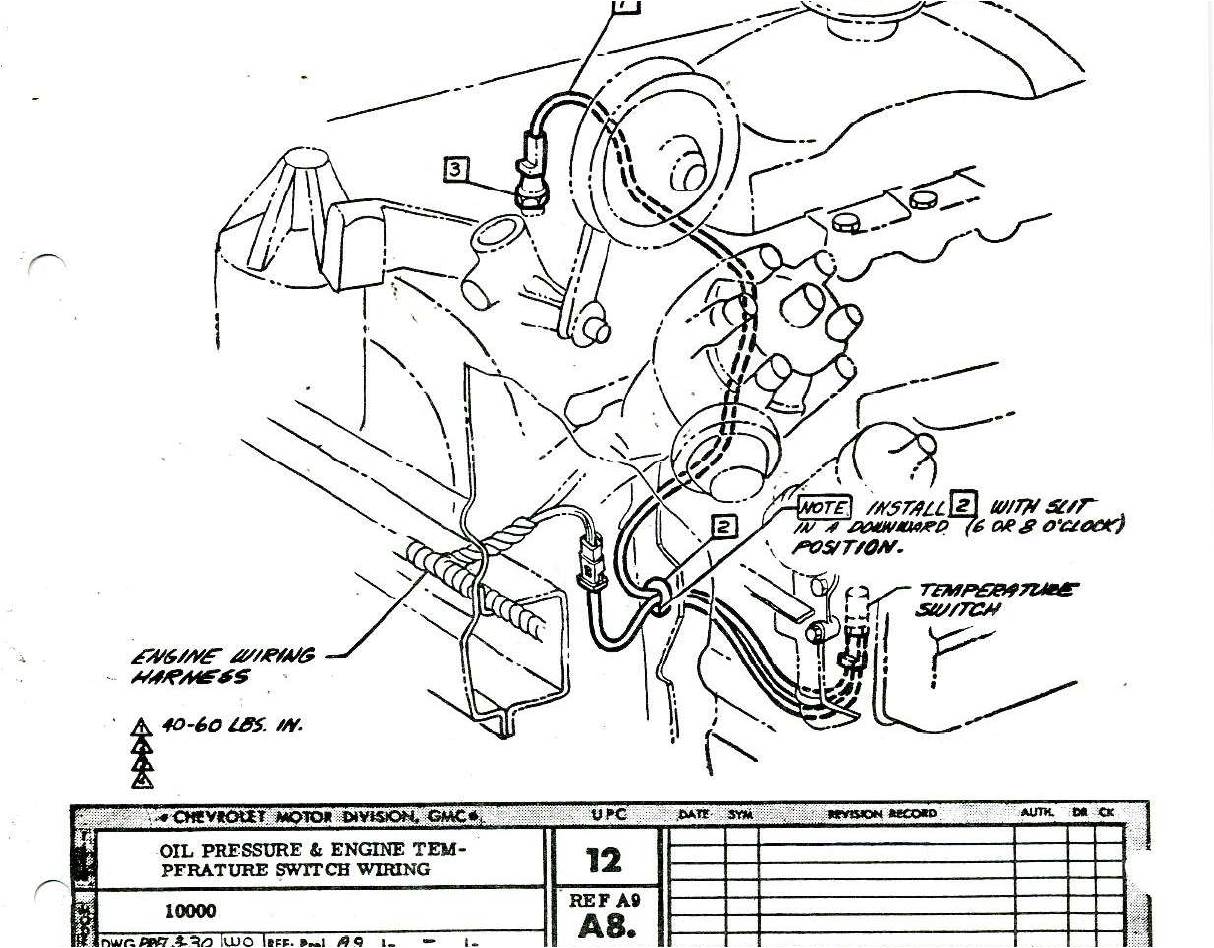 If the short to ground is further on toward the instrument panel, you might check the 12-pin multi-connector in the engine compartment, near the battery. Separating the two halves of the connector shell could reveal a shorted wiring connector inside the connector plastic shell. If the short to ground proves to be further toward the instrument panel, you will have the somewhat difficult job of tracing the 20 DBL wire through a couple of multi-connectors around the instrument panel to find where the grounding fault is coming from. I hope these 1965 and 1969 wiring schematics prove to be helpful. I have also attached another document:
1965 Corvair Assembly Manual - ELECTRICAL COMPONENTS, HARNESSES & SCHEMATICS
. This may help you to visualize the wiring harness path through your Corvair.
Left-Click to Enlarge for Better Viewing. Left-Click a Second Time for Maximum Enlargement...
From the 1969 Corvair Shop Manual Supplement...