Hey there folks,
I've been intrigued by Corvairs since I stumbled upon one a couple years ago, and when I saw this 1963 Greenbrier for $850 only a couple hours away from me I couldn't pass it up.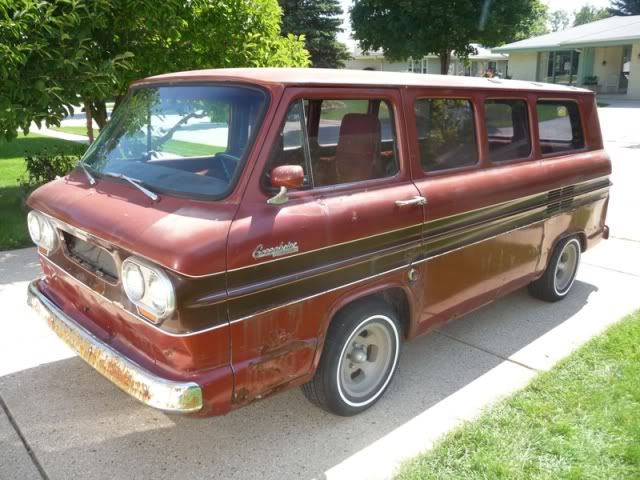 So, being the proud owner of this van, I ask myself the question "What next...?" I've never owned a Corvair before, and quite honestly I have next-to-zero experience working on/fixing up cars... especially a quirky van nearly 50 years old. But I figure that as in-over-my-head I am already, I can really only go up from here, and I am definitely motivated to learn any and everything I need to get my van up to daily driver standards.
I'm hoping someone here will be kind enough to give an extreme newbie a nudge in the proper direction! :D
The car is running and drivable; the engine is nice and strong (though obnoxiously loud due to a hole in the muffler/exhaust pipe) and most of what should work does (headlights not so much). As far as I can tell, the kicker is going to be the body: the floorpans are all entirely intact, though there is no shortage of suface rust, and the passenger side door definitely needs to be replaced and there's a crack in the windshield.
Here's a picture album showing some of the car (and its fabulous interior :P)
http://s62.photobucket.com/albums/h114/ ... reenbrier/
It came with two boxes of extra parts and a spare passenger door, though I have yet to sift through them and see what's there (hopefully the filters for the carbs and the gas cap), as well as two new bumpers and the missing Chevy grille cover.
So... assuming I know absolutely nothing and I have a few reasonable goals:
Make this car a reliable daily driver
Don't worry about the exterior beyond what is absolutely necessary (the paint'll have to go eventually)
Avoid spending an exuberant sum of money (I'm a college student)
Where would you guys suggest I start?
I'm already a member of this form (duh) along with CorvairCenter, VirtualVairs, and Corvanatics, but are there other more useful websites I should know about? There seems to be somewhat of a literary dearth of Greenbrier-specific information, but would some of the books listed
here
be pertinent to my interests?
Corvair Basics
seems to be a good starter book... but will that be relevant for Greenbriers rather than other Corvairs?
On the more mechanical side of things, what's a good first thing to start work on? I assume that running some basic engine/transmission tests would be smart and/or doing a thorough once-over of the car to determine exactly what is missing, but maybe there is something more basic. If you do suggest that I do an engine checkup, is that something I could likely complete myself with a couple friends, or would it be smarter to take it to a mechanic until I've garnered some acceptable car know-how?
Being that there is surface rust and the paint is cracking/bubbling in places, it's obvious that the paint is going to be stripped at some point. Is it advisable to sand blast it now and then leave it with a primer until at last I'm ready to get the car painted? (Whenever that is....)
As you can see I have more questions than is probably healthy, but I'm not going to get anywhere if I don't ask. If you have the time to read all the way through this post, then I thank you immensely... and if you can contribute a bit of first-time owner knowledge by way of some suggestions, I'll be forever grateful!
Cheers,
Travis T.
Here's a simple question that could easily be answered: what sort of fuel should I be running this thing on? 87 Unleaded with a dash of two-stroke, or will just regular pump gasoline suffice?