Welcome to the Corvair Forum! We would love to see some pictures of your Corvair Corsa and hear more about it!
In a late model (1965-1969) Corvair, there is plenty of room.
But make sure the Positive and Ground cables are correct!
Disconnect, clean, and securely reconnect the positive and negative battery terminals.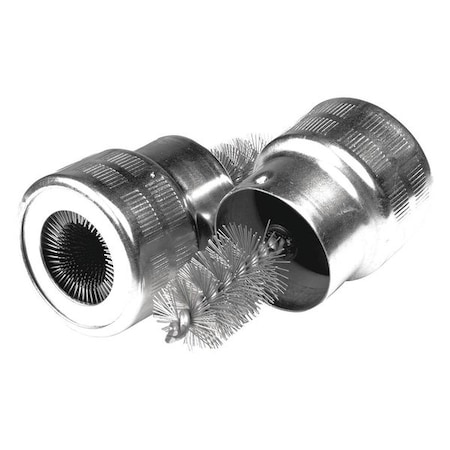 BAD GROUND CONNECTION!
No direct chassis ground.
Correct Wiring
Ensure that the ground cable is attached to BOTH the car chassis AND the engine, as shown in the diagrams below. The engine and transaxle are physically and electrically isolated from the car chassis because of the three rubber engine mounts. If a single battery ground cable is only connected to the chassis, the starter, generator and engine may not be adequately grounded. This could cause starter or generator problems.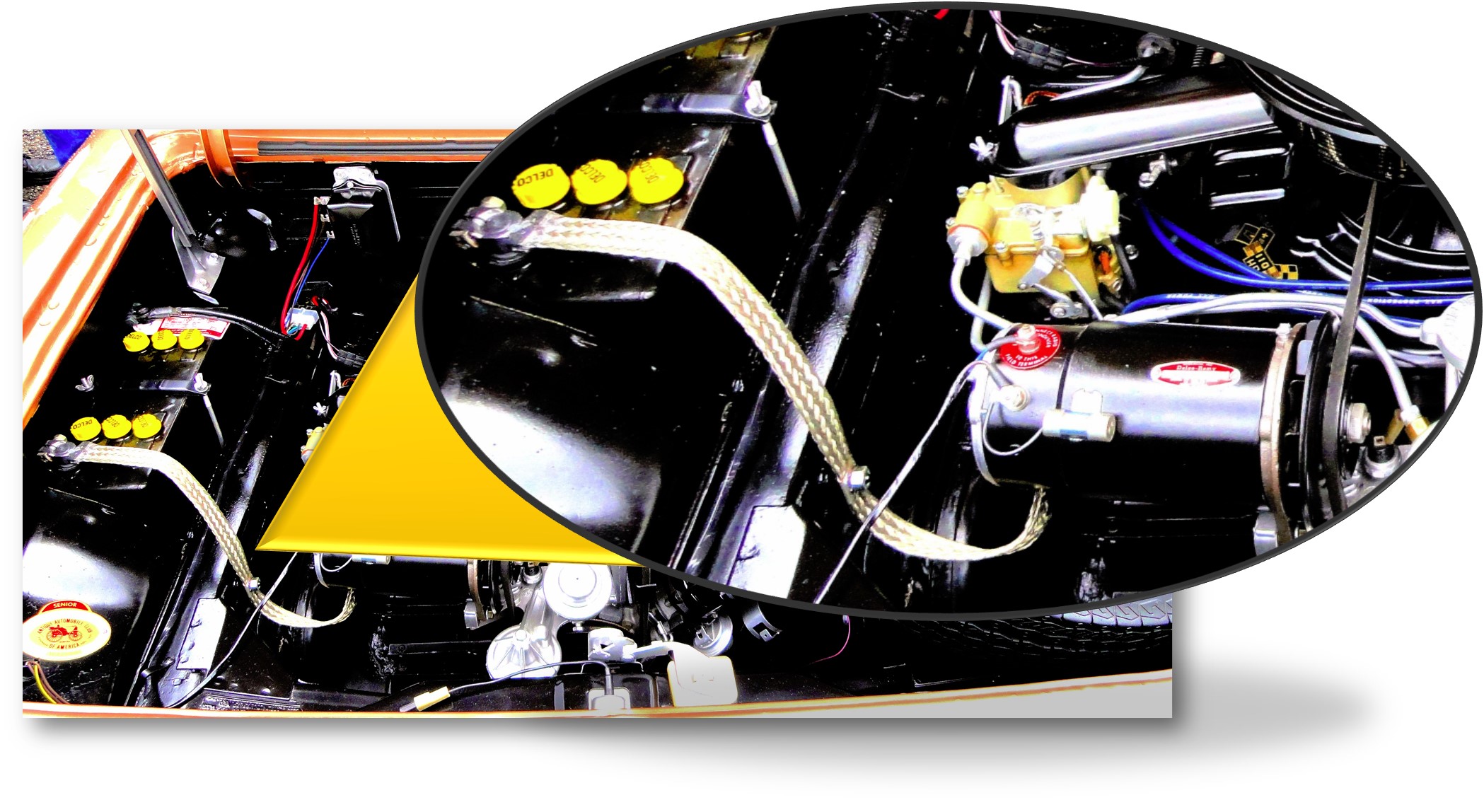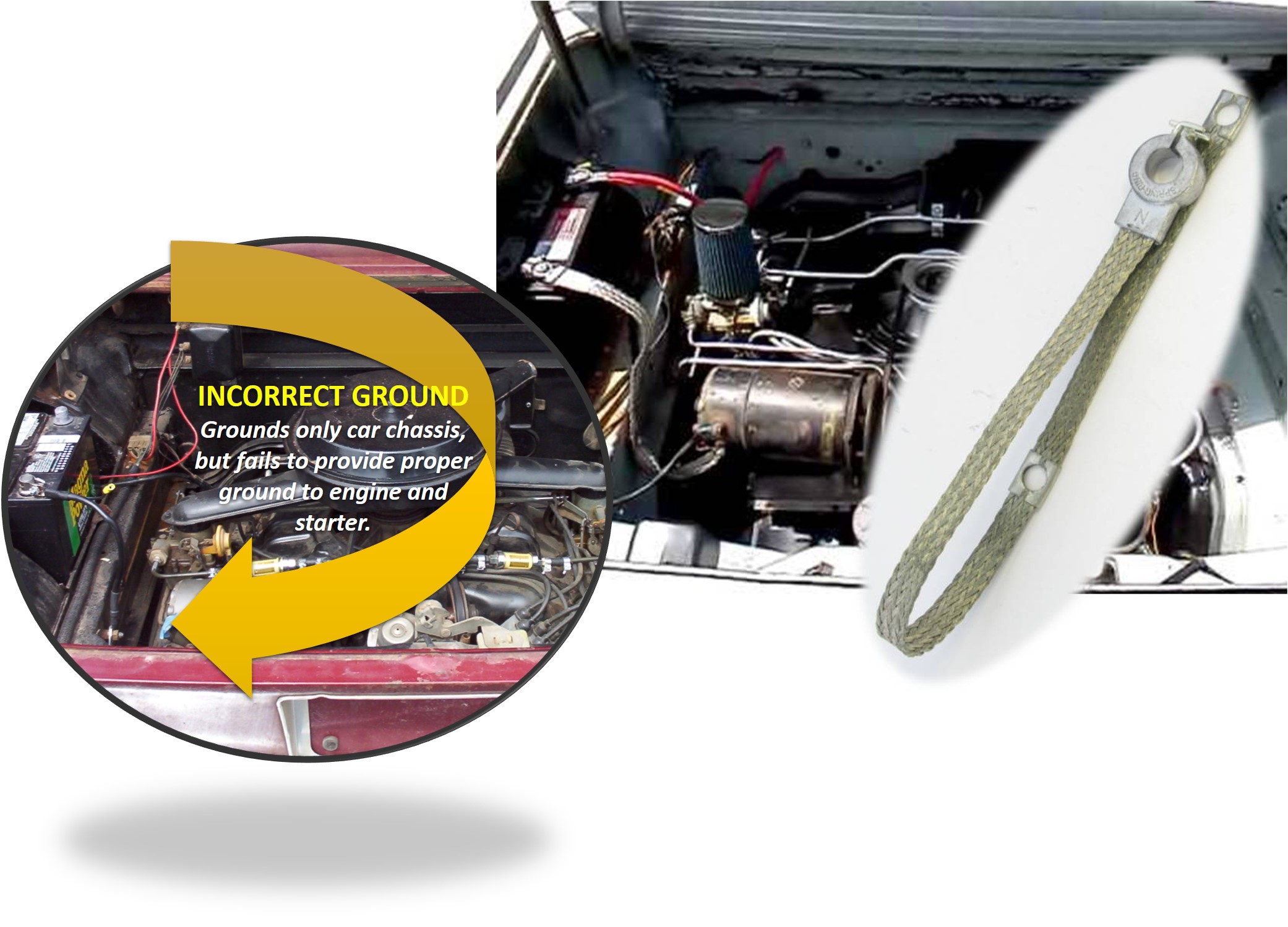 The starter needs a ground return path that is equal in wire gauge to the red positive cable that connects directly to the starter motor. That is why it is important to have the negative ground cable connected directly to the engine hardware. All other automobile electrical (lights, radio, ignition, horn, etc.) feed from the smaller gauge wire that goes from the positive terminal to the voltage regulator. The return charging voltage from the generator/regulator back to the battery also can travel on a smaller gauge wire. The heavy current draw from the battery is for the starter motor, and that is why it requires the thickest gauge cable to supply the starter directly. And for every current draw from the battery, an equal return path must exist back to the battery negative terminal to complete the electrical circuit. That is the reason for the thick negative cable from the engine back to the battery. The engine is mounted to the car via rubber engine mounts to provide some vibration isolation between the car frame and the vibrating engine. But this also isolates the engine electrically, so the thick cable cannot be connected only to the car chassis. Doing so would weaken the current capability feeding the starter. Some EM ground cables "daisy chain" from the negative battery terminal to the car frame, and then on to a connection on the engine, near the alternator or generator. This provides adequate ground connectivity for both the car chassis and for the engine.

http://www.corvair.com/user-cgi/catalog ... IN&page=81
I chose a OPTIMA Red Top Battery, Group Size: 34/78.
Advance Auto Parts wrote:

The OPTIMA REDTOP high-performance AGM battery is the ULTIMATE POWER SOURCE designed to deliver the strongest starting power. With unparalleled high power delivery and extreme resistance to the most common causes of battery failure, REDTOP is ideal for trucks, SUVs, hot rods, street cars and other high-performance applications that require a spill-proof starting battery.

Product Features:

SPIRALCELL TECHNOLOGY with 99.99% pure lead delivers more power and consistently outperforms conventional flat-plate batteries
Up to 3 times longer life vs. standard flooded batteries
15x the vibration resistance of a standard flooded battery
Completely non-spillable, mountable in many positions
Maintenance free for maximum convenience
Faster recharging capabilities



Warranty Details (3 YR FREE REPLACEMENT)
My personal preference is to install a plastic battery box like the one pictured below. The inexpensive plastic box can be bolted to the engine compartment and it completely isolates the battery, battery corrosive acid and battery electrical terminals to prevent engine compartment body damage and electrical shorts.

NOCO HM318BKS Group 24-31 Snap-Top Battery Box for Automotive, Marine, and RV Batteries

https://www.amazon.com/NOCO-HM318BKS-Sn ... attery+box
BCI group 34 batteries physical dimensions are (L x W x H) 10.25 x 6.8125 x 7.875 inches (26 x 17.3 x 20 cm), with the weight varying between 37 and 51 pounds. BCI group 34 batteries are very similar in size to BCI group 24 batteries (10.25 x 6.8125 x 8.875) - group 24 batteries are 1 inch taller.
The link below will provide you with a list of useful websites that are Corvair-related. Some of the links will lead you to an extensive technical library that will allow you to download shop manuals and other technical references in Adobe Reader format at no cost. There is also a link that will help you to locate nearby CORSA (Corvair Society of America) club chapters. You will also find a list of essential Corvair parts suppliers. Clark's Corvair Parts in Shelburne Falls, MA is the biggest and oldest Corvair supplier in the world. You will find a link that can provide you with a series of videos that amount to a tour of the Clark's Corvair Parts facilities. Parts suppliers such as this truly make our Corvair hobby possible.
Common and Useful Corvair Websites
Corvair Forum

http://www.corvairforum.com/forum/viewt ... 225&t=6007

I would like to encourage you to expand on your initial post and tell us more about yourself, your Corvair interests, and your goals for your Corvair. Helping us to know more about you will help us to write comments to you that are tailored to your needs and experience. Detailed pictures of your Corvair — including the engine compartment — would possibly be useful. Knowing your location may also suggest possibilities in supporting your Corvair interests.