I am in the middle of rebuilding a 1964 4 speed transmission. The process is moving along normally, the layshaft needle bearing and shaft were in bad shape and I am replacing them. Overall the layshaft and gears are in good shape and other than replacing the sliding 3rd gear which was marginal; I will reuse all of the original gears. I am also replacing the 4 brass blocker rings and 6 synchronizer keys, (all from Clarks). However I noticed that on the 4 brass blocker rings that were removed from the transmission, 3 appear to be 1-2 blocker rings with the longer hubs. Only one appears to be the shorter 3-4 blocker ring. I am not sure at this time on which side of the 3-4 synchronizer the longer hubed blocker ring came off of. The car when I got it was in very bad shape with no history, front suspension was bent up badly and the front brake cylinders were frozen. I was able to loosen up the front brake shoes and run the engine so I could carefully drive it on to a trailer. Prior to pulling the engine I was able to drive it slowly up the block to verify I had 4 gears and a working clutch, all appeared relatively normal, but it was not a very thorough testing.
Here are the 4 blocker rings that I removed, one on right has the shorter hub.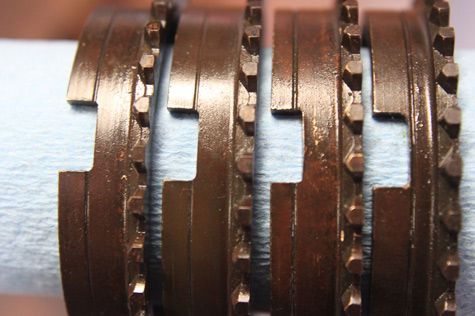 Has anyone with transmission experience run into a situation with miss matched brass blocker rings? My plan is to put it all back to the way it should be, but thought I would ask the experts on the forum. Not sure if this was just a mistake made in a prior rebuild, or something done on purpose. The difference in blocker rings is very obvious.