Beautiful work!




I would like to make a suggestion: Since you have opted from time to time to make changes and modifications to improve quality, workmanship, and driving reliability, I would suggest that you remove and set aside the 1960-1961 distributor and replace it with an appropriate 1962-1969 distributor. The reason? To get rid of the obsolete and difficult to find 1961 points, condenser, rotor, and distributor cap. Switching to the design that was introduced in 1962 will allow you to utilize the more-common 1962-1969 cap and rotor. It will also allow you to utilize the proven and very reliable Crane Cams/FAST XR700 optical trigger breakerless ignition system. (The early design 1961 distributor is not compatible with the breakerless upgrade systems).
bbodie52 wrote:

For those considering modern ignition system options for their Corvair...

The Pertronix Ignitor II has been known to have some sensor problems managing a slow idle, such as found with a Corvair running a Powerglide automatic transmission in DRIVE. I believe the problem appears when the idle drops too low for the Pertronix Ignitor II electronic module to manage the pulses properly. The ignition system may begin to skip every other pulse, causing an ignition system misfire. This may show up with the engine dying when you shift a properly idling engine from NEUTRAL to DRIVE. The load of the torque converter may slow the engine to the point that the Pertronix unit begins to malfunction. The problem is not present in the Pertronix Ignitor I, the Crane Cams XR700, or the Stinger electronic distributor marketed by Performance Corvairs (Seth Emerson).

It was the Ignitor I version that could be damaged by leaving the key in the ON position without the engine running. The Crane Cams XR700 displays none of these problems. Both Pertronix modules prefer a full 12 VDC power source — bypassing the factory integrated resistor wire.

The primary reason for the factory integrated ballast resistor / resistor wire that is present in early vintage ignition systems was to reduce the voltage powering the ignition coil, which also in-turn reduced burning and arcing of the ignition points that occurs each time the points open or close. This system increases the coil voltage to full battery voltage during initial engine starting (when the starter is cranking the engine) to temporarily boost the ignition coil spark plug voltage output to promote engine starting. Once the engine starts and the starter system disengages, the ignition coil voltage reverts to a source routed through a ballast resistor that reduces coil input voltage from a nominal 12 VDC to approximately 7 VDC. This produces a lower spark plug voltage that is deemed sufficient for normal engine operation. The reduced coil input voltage prolongs the life of the ignition points electrical contacts, and has a secondary benefit of causing the ignition coil to run at cooler operating temperatures.

Many high performance ignition coils were designed to function powered at full battery voltage (12 VDC) all the time, to permit full-time maximum spark plug voltage. Also, most aftermarket electronic breakerless ignition systems that eliminate the use of ignition points (Pertronix Ignitor I and Ignitor II, Stinger electronic distributor, etc.) require a full 12 VDC power source to power the electronic circuitry. However, the Crane Cams XR700 electronic module was designed to be powered through the vehicle manufacturer's ballast resistor / resistor wire (nominal 7 VDC). Connecting it to a full 12 VDC could cause it to overheat and possibly malfunction. The requirements of any newly installed aftermarket performance ignition coil or electronic breakerless ignition system must be considered when installing the new system. Installation instructions must be carefully reviewed to ensure proper installation.

http://www.corvair.com/user-cgi/catalog ... IN&page=74

Ted in Atlanta has a lot of professional Corvair experience. I remember his recommendation...

terribleted wrote:.

..I love my Crane ignitions. I have only ever seen one that had failed. Something I can not say about the Pertronix units where failure is somewhat common from what I have seen.

Corvair guy since 1982. I have personally restored at least 20 Vairs, many of them restored ground up. Full time restoration tech and mechanic.

https://www.facebook.com/tedsautorestoration

http://www.corvair.com/user-cgi/catalog ... ge=OTTO-21

NOTE: THE CRANE CAMS SYSTEM IS NOW MARKETED AS A FAST XR700, DROPPING THE CRANE CAMS NAME

FAST 700-0226 XR-700 Points-to-Electronic Ignition Conversion Kit for Domestic 4, 6 and 8 Cylinder Engines and VW/Bosch 009 Distributors

https://www.amazon.com/FAST-700-0226-El ... pons&psc=1 https://www.summitracing.com/parts/fst- ... gI0K_D_BwE https://www.jegs.com/i/FAST/244/700-0226/10002/-1 https://www.fuelairspark.com/ignition-s ... ition.html

It is not a bad idea to relocate the coil mount position. The standard installation of the ignition coil was always mounting it directly on the right cylinder head. The cylinder head on an air cooled engine gets very hot, and a significant portion of that heat can be transferred via the coil mounting bracket to the coil body itself. I would recommend relocating any coil as shown in the pictures below.
If you decide to change to the later-design Corvair distributor, this chart will help yo to compare timing advance curves, so that a similar distributor timing curve can be selected for your engine. The Corvair Ranch in Gettysburg, Pennsylvania can probably help yo to find a good, serviceable distributor from their wide selection.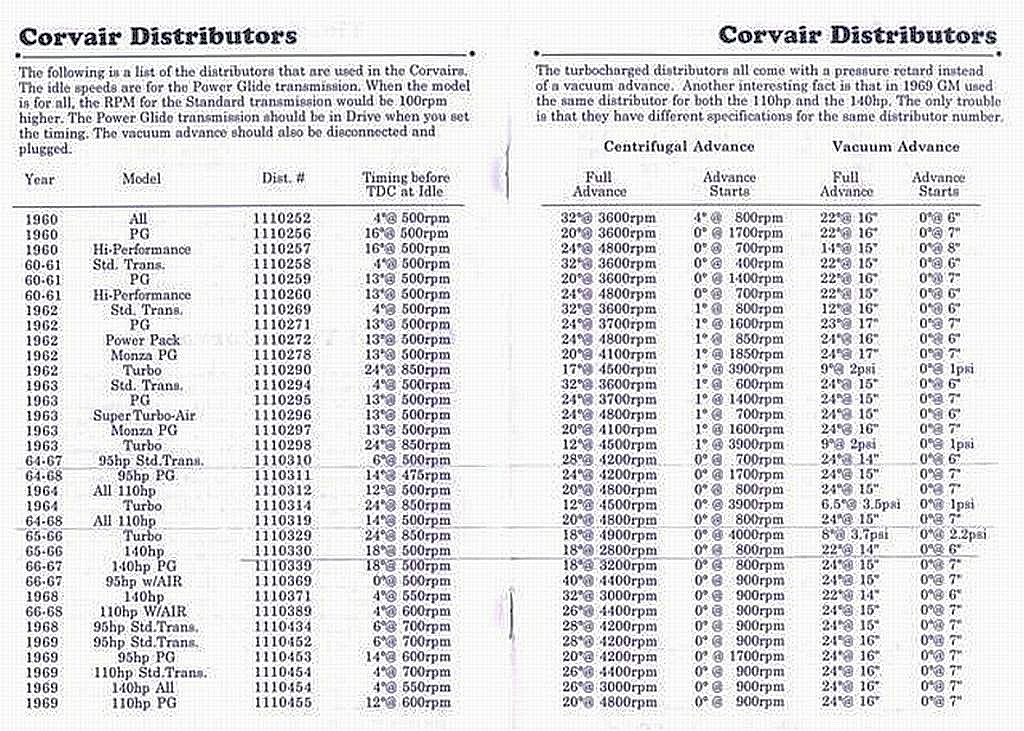 New (1962-69) and Old (1960-61) Corvair Distributors
You might contact the Corvair Ranch in Gettysburg Pennsylvania. They have a large inventory of used Corvair parts and may be able to help you. Recommend you give them a call to discuss your needs...

http://www.corvairranch.com/
1079 Bon-Ox Road, ​Gettysburg, ​PA. 17325 USA
​Phone: 717-624-2805

fax us by the same number... ask us to hook up the machine

Email: findit@theranch.today

Our hours are Monday thru Friday 9 to 5, Saturday 9 to 12 or contact us for an appointment.