It has been almost a month since I did an update. Planning seems to take far more time than I thought or at least planned for. We have just tacked together the front cross member. Our plans call for welding in cross member brackets that came on the car. We have constructed the new cross member out of 2.250 ID thick wall square tube. It will be bolted into the bracket with a 9/16th bolt.
That might be a little industrial for some but it has become a major component. The motor mounts are fabbed and fitted but not yet tacked when this photo was taken.
The gold arms that can be seen in the picture below the cross member are on a jig placed between the trailing arm bolts. We will be fabbing up some brackets for the bottom of the cross member to hold one end of the arm. The other end of the arm will attach to the trailing arm itself. This will be a brace as well as the toe in / toe out adjuster.....at least that is the plan..........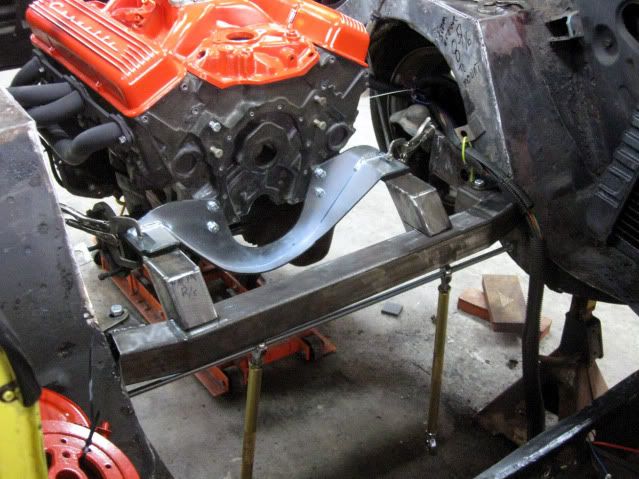 I also ordered some headers that were built for a V8 S-10 conversion. The passenger's side header fits like a dream and requires very little
The same cannot be said for the driver's side. That one is going to require a little work
More to follow on the rear cross member later this week