The name is a little long but what the heck, it is still going to be a rear engined Corvair.......sort of
I have had this coupe since the mid 90's. I think it may have traveled a total of about 100 miles in that time frame. I got tired of Corvairs and went to traditional hot rods a few years ago. Turns out I like to go fast ! who knew ?

So about 6 months ago I started looking at doing a mid engine for my coupe. I was sold on using a 944 transaxle simply to put some room between me and the motor in the back seat. I had decided to do a 13B Rotary motor with a couple of hair dryers our of a 98 Mazda RX7. Then it happened. One of my buddies called and said he had just picked up a TH425 transaxle from a 73 Cadillac. The guy who owned the transaxle just wanted it our of his garage so the price was perfect. I had a partially built 350 sitting in the garage so the project was born............
Here is what we are starting with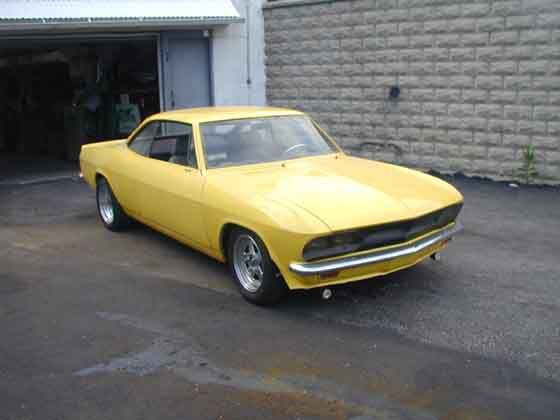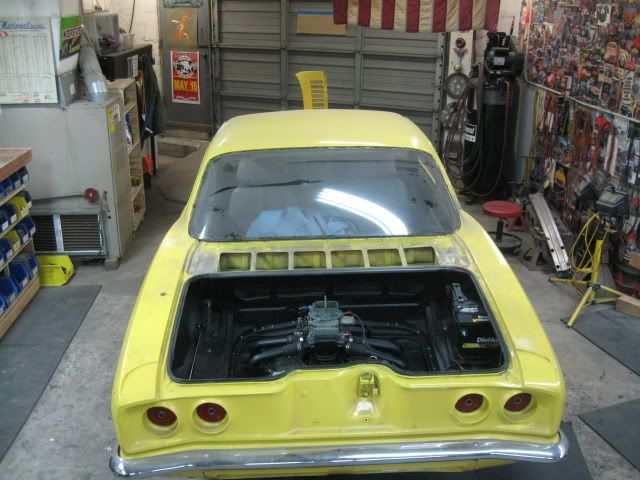 One of the first tasks that we encountered was doing a notch in the oil pan for the passenger side axle. Luckly for me I got to use one of our plastic layout blocks from work.......got to save those back muscles for important things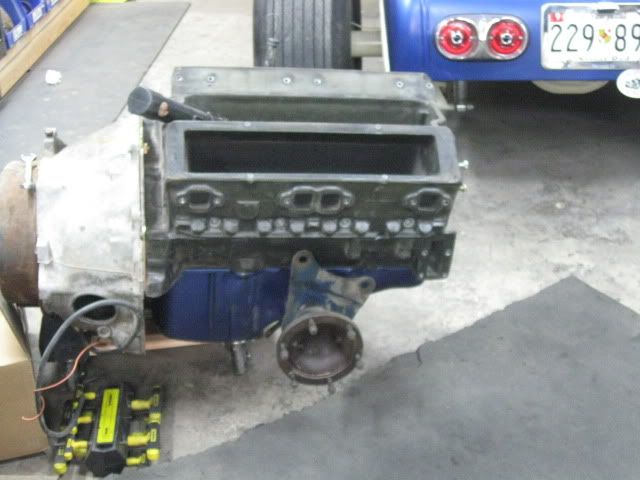 Then was time to empty the car of everything that might get in the way. Seats, door panels, quarter panels, power windows, rear window, all sound deadening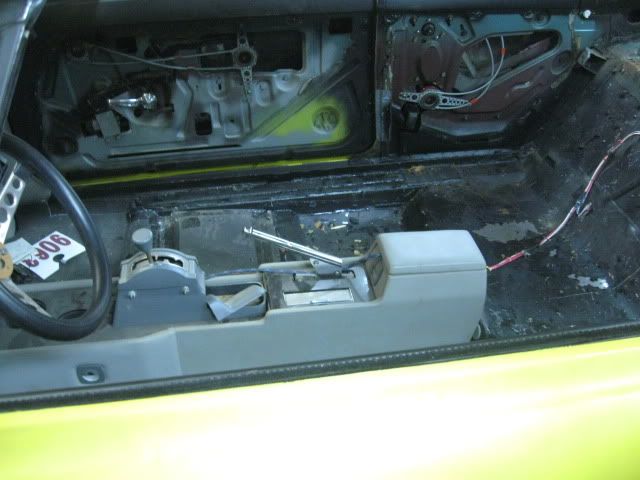 Of course, the engine ,transaxle and powerglide trans
Now the fun begins. Wednesday the 29th of February , we started cutting.
We stopped a little short of cutting out everything. Our reason for stopping was to think the radiator position over. The front of my car was used up a long time ago with a fuel cell and stereo gear. After studying The White V8 in Arizona ( I am copying your build with a different engine ), We have decided to put the radiator in the back seat. The plan is to cut a hole in the floor space behind the front seats along with holes in the floor of the back seat to allow air to the radiator. There will be a shroud ducting all the air to the radiator and no place else. There will be draw through fans on the back of the radiator to provide cooling. The radiator is from a 74 El Camino big black. I think it will do the job.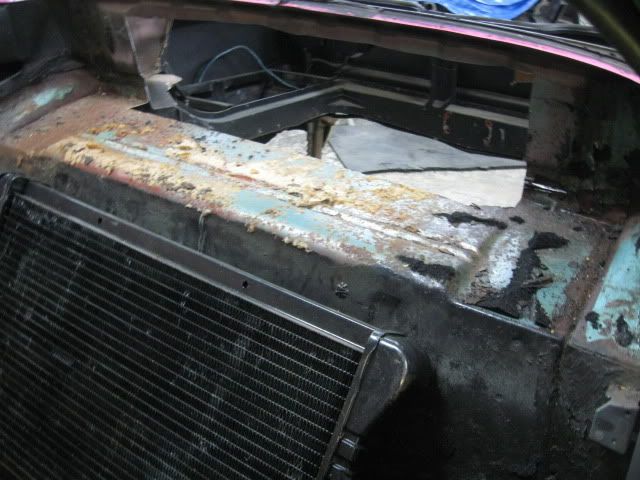 So there you go ! The start of what should be a really good and quick project. We are shooting for around 400 HP. We think the car will tip the scales around 3,000 lbs. This is the first phase. Get it running and get rid of any problems. Phase two will be heat and A/C. Then we will think about interior and paint...........
Until then, it is the build of
The Spousal Avoidance Unit