High energy ignition

High energy ignition

, also known as H.E.I., is an electronic ignition system designed by the Delco-Remy Division of General Motors, and introduced on some GM vehicles in 1974, including the Camaro Z28 Special High Performance (with 3123 units factory installed) and 1974 Buick Century Gran Sport Stage 1 (distributor code 1112521). It was used on all engines from 1975 through the mid-1980s. There were many design variations over the years, and provisions for computer controls were added for some applications starting in the late 1970s. A predecessor system was optional on Pontiacs as "code 704 UPC K65 unitized ignition system" for the 1972 and 1973 model years.

HEI is characterized by the incorporation of the ignition coil into the distributor cap for most applications. The system consists of a control module and a magnetic pickup mounted in the distributor. This eliminates ignition points and the coil wire. The control module performs the same function as the breaker points in a points and condenser system.

Upgrading

HEI distributors are a popular swap on older GM cars originally equipped with points and condenser type ignition systems. The HEI system produces a more powerful spark, which allows for a wider spark plug gap. The wider gap ensures ignition of air/fuel mixtures that are excessively lean, and/or have a high percentage of exhaust gas, causing misfires and high exhaust emissions. The wider gap also leads to a more reliable and quicker startup, especially in cold weather, when the engine is harder to turn over and pulls battery voltage down.

The HEI setup has also become a popular swap into other models of vehicles that did not originally come with an HEI ignition. Cases where the cranking speed of older GM engines is not sufficient to cause the inductive trigger coil of the HEI to cause the module to energize the high voltage spark coil are known. If in doubt, an ordinary electronic tachometer can be connected to the HEI distributor in question. By turning the distributor with a variable speed drill the minimum crankshaft speed at which spark will occur can be ascertained. Temporary use of a point-type distributor in the engine to be converted will allow its cranking speed to be measured and the problem isolated. Changing to a faster-cranking starter may be desirable. Some enthusiasts have attached small magnets to the harmonic balancer that cause a 3-wire-type hall-effect chip mounted in a wooden cube to switch the module at a fixed timing during cranking. Releasing the starter also releases a small ("cube") relay that reverts the HEI to normal inductive triggering.

Spark amplifiers

Add-on ignition spark amplifiers allow for the conversion of a HEI distributor system to a VHEI (Very High Energy Ignition) system, further increasing the net output energy of a HEI spark. A well-tuned HEI can produce up to 40,000 volts, compared to about 18,000 volts for the points system. Another reason for this is the self-contained plug-and-play nature of these systems. All the system needs is an ignition switch controlled 12 volt source that is live in both the "crank" and "run" positions.

Ballast resistor

To wire the system, the ballast resistor unit (early vehicles) or ballast resistor wire feeding the points-type coil needs to be bypassed with regular copper wire. This is because the points system used this resistor to reduce the voltage to the coil to around 9 volts while the ignition switch is in the "run" position to prevent overheating the points. The points system has a "bypass" wire from the ignition switch or the starter solenoid to deliver full battery voltage to the coil during cranking. The HEI system needs the full battery voltage at all times to work its best. One common hookup method is to replace the ballast resistor or wire with a normal copper wire and attach both wires to the HEI's power input terminal. This ensures the HEI receives full power while running.

https://en.wikipedia.org/wiki/High_energy_ignition
For those considering modern ignition system options for their Corvair...
The Pertronix Ignitor II has been known to have some sensor problems managing a slow idle, such as found with a Corvair running a Powerglide automatic transmission in DRIVE. I believe the problem appears when the idle drops too low for the Pertronix Ignitor II electronic module to manage the pulses properly. The ignition system may begin to skip every other pulse, causing an ignition system misfire. This may show up with the engine dying when you shift a properly idling engine from NEUTRAL to DRIVE. The load of the torque converter may slow the engine to the point that the Pertronix unit begins to malfunction. The problem is not present in the Pertronix Ignitor I, the Crane Cams XR700, or the Stinger electronic distributor marketed by Performance Corvairs (Seth Emerson).
It was the Ignitor I version that could be damaged by leaving the key in the ON position without the engine running. The Crane Cams XR700 displays none of these problems. Both Pertronix modules prefer a full 12 VDC power source — bypassing the factory integrated resistor wire.
The primary reason for the factory integrated ballast resistor / resistor wire that is present in early vintage ignition systems was to reduce the voltage powering the ignition coil, which also in-turn reduced burning and arcing of the ignition points that occurs each time the points open or close. This system increases the coil voltage to full battery voltage during initial engine starting (when the starter is cranking the engine) to temporarily boost the ignition coil spark plug voltage output to promote engine starting. Once the engine starts and the starter system disengages, the ignition coil voltage reverts to a source routed through a ballast resistor that reduces coil input voltage from a nominal 12 VDC to approximately 7 VDC. This produces a lower spark plug voltage that is deemed sufficient for normal engine operation. The reduced coil input voltage prolongs the life of the ignition points electrical contacts, and has a secondary benefit of causing the ignition coil to run at cooler operating temperatures.
Many high performance ignition coils were designed to function powered at full battery voltage (12 VDC) all the time, to permit full-time maximum spark plug voltage. Also, most aftermarket electronic breakerless ignition systems that eliminate the use of ignition points (Pertronix Ignitor I and Ignitor II, Stinger electronic distributor, etc.) require a full 12 VDC power source to power the electronic circuitry. However, the Crane Cams XR700 electronic module was designed to be powered through the vehicle manufacturer's ballast resistor / resistor wire (nominal 7 VDC). Connecting it to a full 12 VDC could cause it to overheat and possibly malfunction. The requirements of any newly installed aftermarket performance ignition coil or electronic breakerless ignition system must be considered when installing the new system. Installation instructions must be carefully reviewed to ensure proper installation.

https://ssl.corvair.com/user-cgi/catalo ... IN&page=74
Ted in Atlanta has a lot of professional Corvair experience. I remember his recommendation...
terribleted wrote:.

..I love my Crane ignitions. I have only ever seen one that had failed. Something I can not say about the Pertronix units where failure is somewhat common from what I have seen.

Corvair guy since 1982. I have personally restored at least 20 Vairs, many of them restored ground up. Full time restoration tech and mechanic.

https://www.facebook.com/tedsautorestoration

https://ssl.corvair.com/user-cgi/catalo ... ge=OTTO-21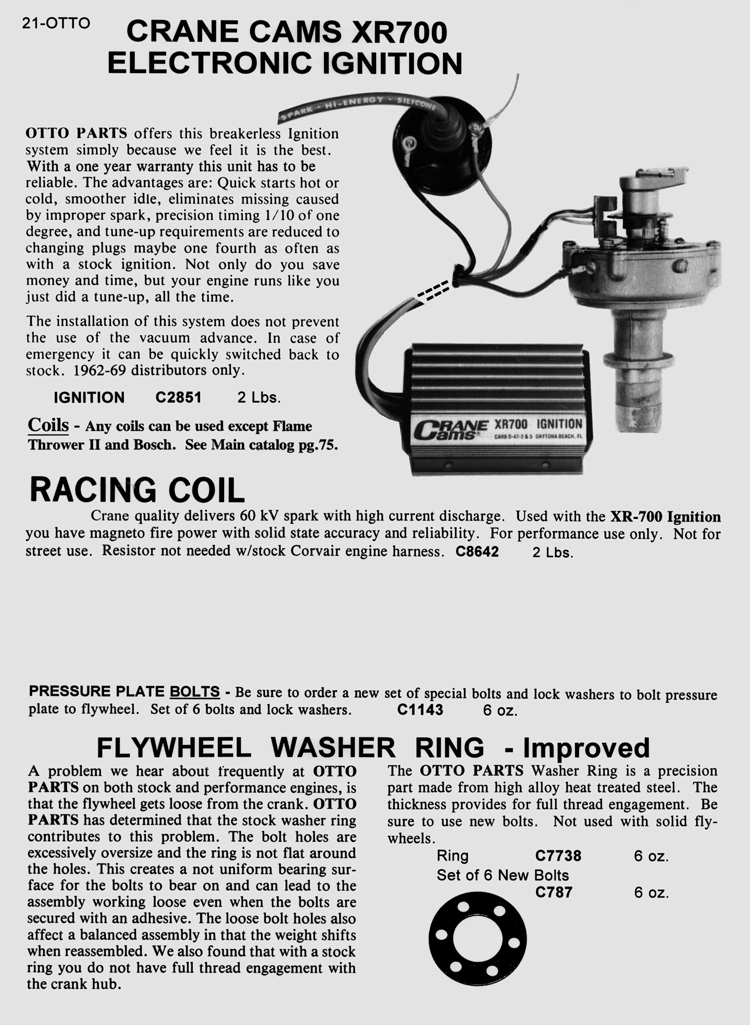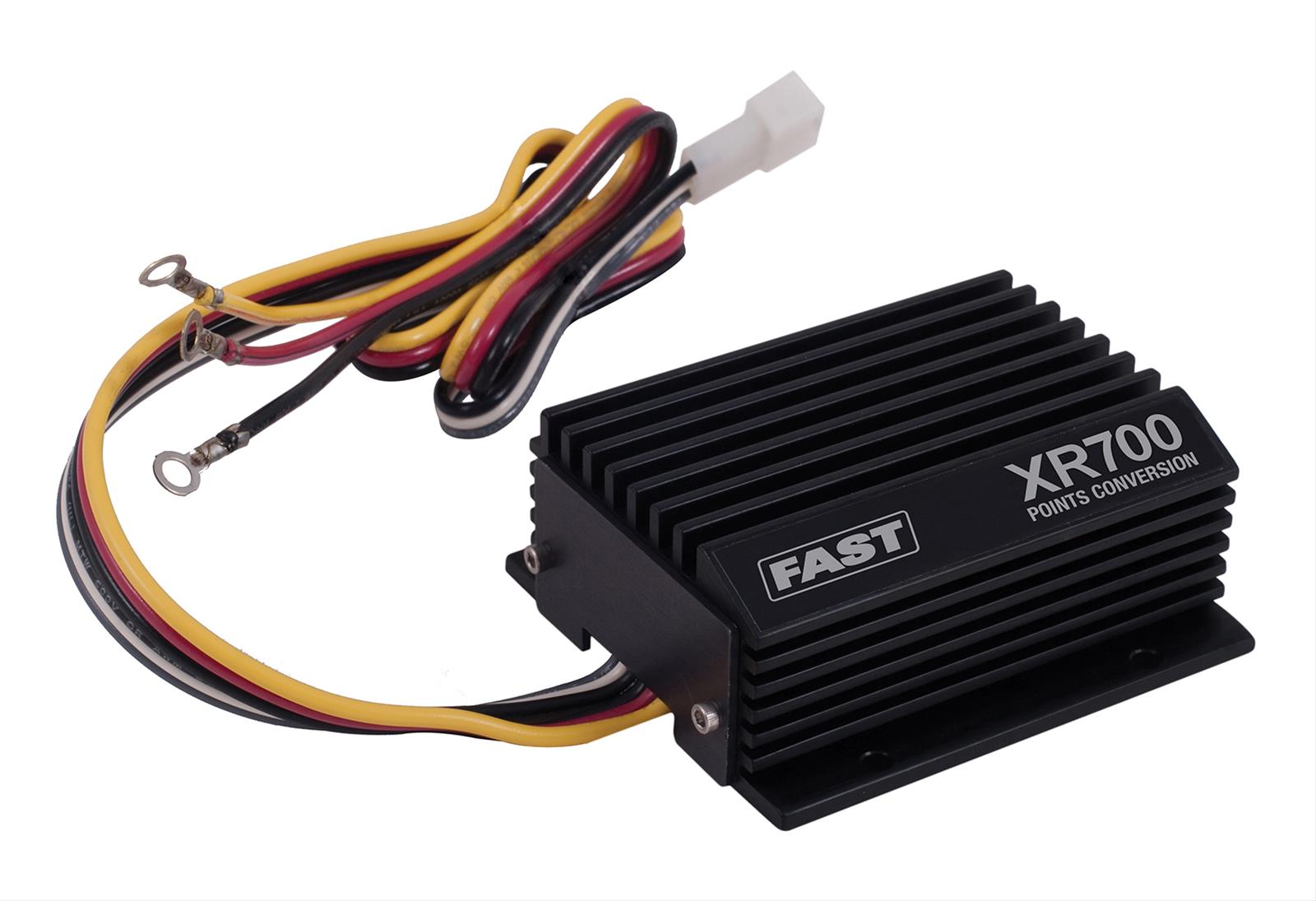 NOTE: THE CRANE CAMS SYSTEM IS NOW MARKETED AS A FAST XR700, DROPPING THE CRANE CAMS NAME
FAST 700-0226 XR-700 Points-to-Electronic Ignition Conversion Kit for Domestic 4, 6 and 8 Cylinder Engines and VW/Bosch 009 Distributors

https://www.amazon.com/FAST-700-0226-El ... pons&psc=1

https://www.summitracing.com/parts/fst- ... gI0K_D_BwE

https://www.jegs.com/i/FAST/244/700-0226/10002/-1

https://www.fuelairspark.com/ignition-s ... ition.html
Both of these older systems have been around for many years. I have come to believe that the Stinger distributor system is a better buy for all but the turbocharged Corvairs (it lacks a pressure retard option). It provides a brand new distributor with adjustable timing advance and a breakerless (magnetic pulse) ignition control similar to the Pertronix unit, but without the already-mentioned operational problems. When you add the cost of new overhaul components for the aging stock distributor, plus a Crane Cams XR700 optical trigger system or a Pertronix magnetic trigger system,the Stinger distributor appears to be a better option.

https://www.perfvair.com/stinger-ignition-distributors/
Electronic Distributors are now available with Blue, Red or Black HEI or OEM Caps. at California Corvair and Clark's Corvair
Contact Us:
Performance Corvairs
Seth Emerson
3462 Kirkwood Dr.
San Jose, CA 95117
Email:
Sethracer@aol.com
Phone: (408) 247-2237



https://ssl.corvair.com/user-cgi/catalo ... age=SUP-42
NEW HEI DISTRIBUTOR

http://californiacorvairparts.com/index ... rch=Search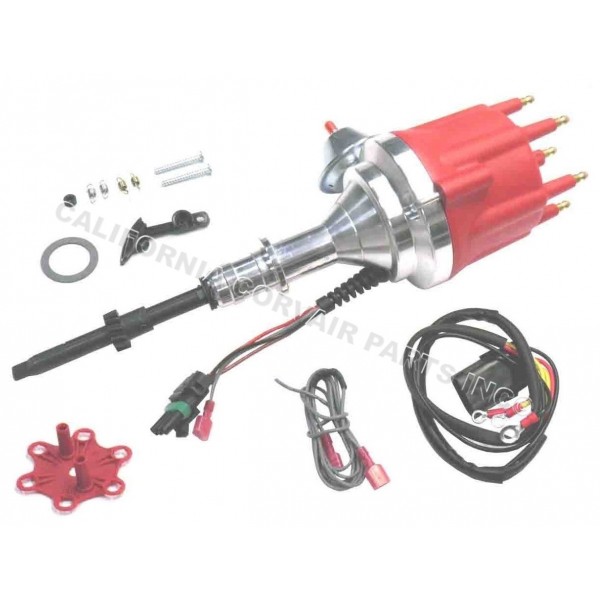 I still believe that, for non-turbo engines, a brand new modern Stinger distributor complete with electronic magnetic pulse-triggered ignition would be a better approach than an overhauled 50+year old Corvair distributor fitted with a Crane Cams/FAST optical trigger unit, or either Pertronix Ignitor or Ignitor II magnetic pulse triggered systems. The total cost with either approach is comparable. An overhauled and updated original distributor with a Crane 'Cams/FAST upgrade and possibly a new pressure retard module would likely be the best choice for a turbo engine, which might also benefit from a high-voltage output coil because of the higher combustion chamber pressures encountered with a turbocharged engine. Most non-turbo engines can probably run fine with a stock coil, because of the low RPM, low combustion chamber pressures encountered with a Corvair 8.0 or 9.0 compression ratio. The Clark's catalog recommends a Stinger distributor connected to a Pertronix Flame-Thrower II 45,000 volt 0.6 ohm coil. Both te Stinger distributor and the Flame-Thrower II coil sould be powered by a full 12 VDC, bypassing the ballast resistor wire.



https://ssl.corvair.com/user-cgi/catalo ... age=SUP-42