Forum rules
All Classified posts will be automatically deleted approximately 90 days after posting.
Posts: 46
Joined: Thu Sep 29, 2016 9:11 am
---
Posts: 46
Joined: Thu Sep 29, 2016 9:11 am
Posted updated with more pics. Package deal for 64 and 65 could be made
---
Posts: 46
Joined: Thu Sep 29, 2016 9:11 am
Bodie. Can you provide us with any info on this one? Interior color was changed from red to black
---
Corvair of the Month

Posts: 7508
Joined: Mon Aug 06, 2012 12:33 pm
Location: Lake Chatuge Hayesville, NC
Contact:
The Corsa in the photos appears to be original in configuration, with the exception of the tires/wheels and interior color already mentioned.
Here is a breakdown of the information on the body tag you provided...
BODY TAG INFO:
05B


Body Build Date: 05 = May, B = Second Week
The first two digits are numbers 01 through 12, indicating the month of manufacture. The letter is A-E, indicating the week of the month. If the letter is an "B" it indicates the second week of the month.

Interior paint code: D = Red



65-10737 WRN 12893 BODY


Style: 65 = 1965 10737: 1 = Chevrolet, 07 = Corsa, 37 = 2-Door Sport Coupe 4-Passenger,
WRN = Willow Run, Michigan, Production Sequence No: 12893



1965 Chevrolet Corvair Corsa 2-Door Coupe - 4 Passenger, Total Production: 20,291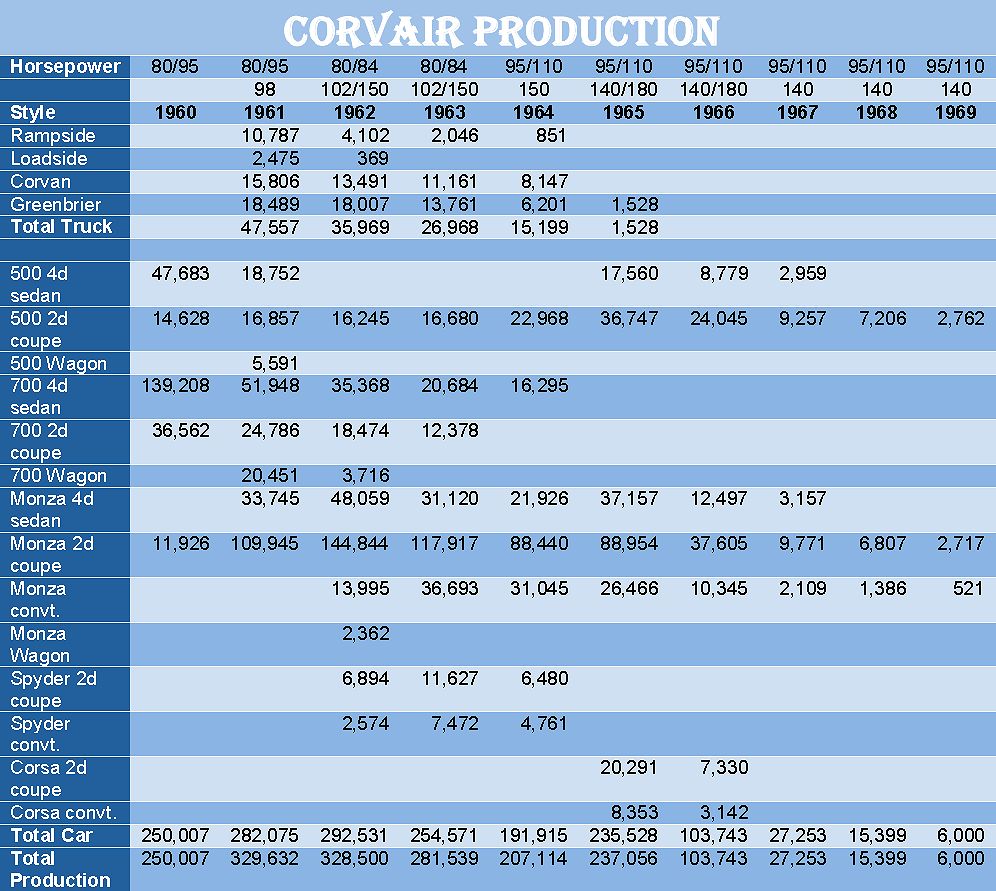 TRim: 785-

= RED (MONZA 10500 and CORSA 10700 SERIES — Bucket Front Seats)
This 3 digit codes represents the interior color and seat type.



Paint: A-A = BLACK "Tuxedo Black"


Lucite No. 88L, Rinshed-Mason No. A 946, Ditzler No. DDL 9300

Example — 1965 Corvair Corsa Coupe in Tuxedo Black with Red Interior
ACC = Accessory line
When decoding ACC line on the Fisher body tags, be aware that body tags do not include any options that did not require any body modification be done by Fisher. Fisher was only concerned with items that required modifications during the assembly of the body. A good example is that you won't find Telescopic column listed on the body tag. Although this is a major option, it did not require any special consideration during body assembly.
2LS 3C 4P 5W-
GROUP 1
NONE
GROUP 2
L = RPO M20 — 4 Speed Manual Transmission
S = RPO U73 — Rear Antenna
GROUP 3
C = RPO B70 — Padded Dash
GROUP 4
P = RPO Z01 — Convenience Group (2 speed wipers, washers, day/night inside mirror)
GROUP 5
W = RPO A49 — Deluxe Seat Belts (Chrome Buckles)
Here is the decoded VIN tag information...
107375W257782
1965 Chevrolet Corvair Corsa 2-Door Sport Coupe from the Willow Run, Michigan plant, S/N: 257782
I have attached a copy of the
1965 Chevrolet Corvair GM Heritage Center Specs
for your model year Corvair.

Brad Bodie
Lake Chatuge, North Carolina
1966 Corvair Corsa Convertible
---
Corvair of the Month

Posts: 776
Joined: Tue Feb 23, 2010 1:54 pm
Personally, I like the black on black a lot, but not in the summer. :O
---
Posts: 46
Joined: Thu Sep 29, 2016 9:11 am
Car cleaned up and all new photos taken. Price negotiable
---
Posts: 46
Joined: Thu Sep 29, 2016 9:11 am
---