Forum rules
Welcome to the Online People's Choice Corvair Show - Corvair of the Month.

To enter your vehicle, Reply to the current Corvair of the Month thread, include at least one high quality photo and some info on your entry (year, model, specs, etc). Each show will be limited to the first ten vehicles posted for that month. The voting will begin as soon as ten vehicles are entered or on the 1st of the month, whichever comes first. Please only post vehicles you own and only one per month. Vehicles must be Corvair or Corvair powered. If you win, please do not post the same vehicle in another month during that calendar year. If you won in a previous year you may enter again. The shows will run each month from January through September. In October we will run the "Corvair of the Year" contests. One for all vehicles 1960-1964 and a second for all 1965-1969 vehicles. In November we will have available a Calendar of all of the winners. Please note that by posting pictures in this forum you give corvairforum.com and it's owners the right to use your picture(s) in the calender and website. In order to Vote for your favorite Corvair you will have to have posted at least three times in any forum. In the event of a tie, the vehicle entered first will be the winner.
---
Site Admin
Posts: 3650
Joined: Tue Nov 17, 2009 5:21 pm
Location: Hesperia, CA
---
---
Posts: 1
Joined: Sun Jul 10, 2016 10:34 pm
1962 Greenbrier deluxe 80HP\4 Speed. Bought 1 1/2 years ago. All systems rebuilt or replaced, Fuel, Brakes, suspension, Front end. Dual master cylinder. New tires. This photo was shot ( taken in San Bernardino CA ) just before drivetrain removed. Trans had no reverse ( not a linkage problem). Rebuilt trans and Diff will be install along with a low mileage 110HP (Car) engine. Bought the van 1 1/2 years ago, The last time the van was registered was in 2002. The van engine was started 2 week after bought it.
---
Coupe
Sent from my SGH-M919 using
Corvair Forum mobile app
---
Posts: 5
Joined: Tue May 02, 2017 11:37 am
I would like to put my Corvair in for Corvair of the month. My Corvair is a 1966 Corvair Monza Convertible with 110 engine. This was redone by the previous owner. When he passed away I asked the family about buying it but they wanted to hang on to it for memory sake but I would be the first to get it when they were ready so in the meantime they had another one same year and model but was Tropical Turquoise with aqua interior and a white convertible top that was the son-in-law's aunts car so I had that for 13 years when they said they were ready to let go of this one. I had to get the steering fixed and new tires then I had electronic ignition put in. I found out that the ethanol gas did a number on the carbs and the gas tank and fuel pump so after getting all those replaced it's running very well.
Sent from my SAMSUNG-SM-J320AZ using
Corvair Forum mobile app
---
Corvair of the Month

Posts: 776
Joined: Tue Feb 23, 2010 1:54 pm
Past Corvair of the Month winner, but have done a few things since the last time I entered. Still needs a paint job, but have replaced the carpet, a number of small interior parts in the correct black (the car was originally red inside), the mechanical clock which I nursed along for 3+ years replaced with Quartz movement, internally-regulated alternator added (with dummy regulator still in place for a more stock appearance) All engine tins powder coated black (except the air exhaust tins) Carburetor tops powder coated gold and modded so custom air cleaners fit without notches in the connecting tubes, all 4 carb tops also modded to remove the old bowl vent casting and some light flash removal inside the bases, had exhaust tip powder coated silver as the cheap paint I used on it kept getting burned off. Replaced balance tube rubber hoses with compression fittings, added Roger Parent's epic Heim joint accelerator linkage.
Engine compartment photo showing carb top mods and new accel linkage.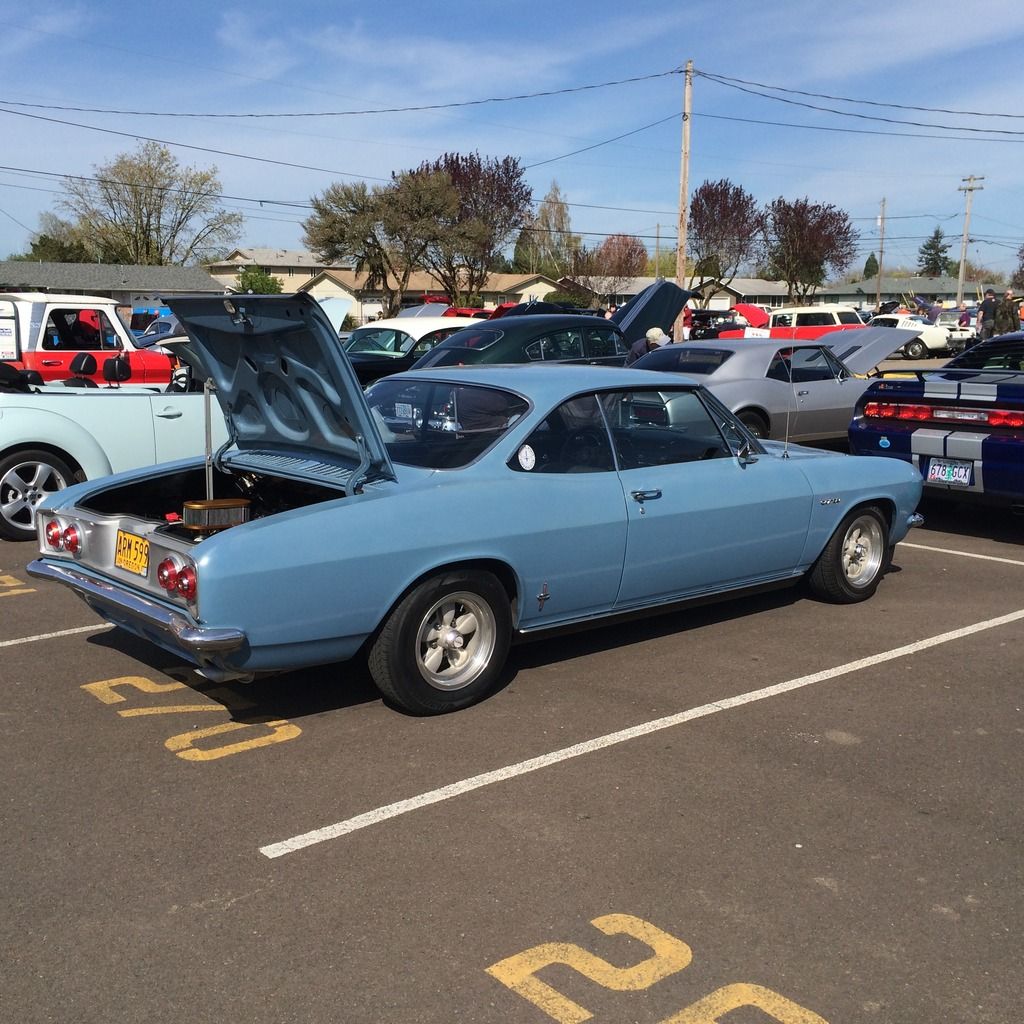 Older side view. I have replaced the tires with correct diameter tires saving RPMs at speed and the speedometer reads very close to perfect now.
---
Corvair of the Year

Posts: 183
Joined: Wed Jun 30, 2010 7:11 pm
Location: Columbus, Georgia
Contact:
1963 V8 Rampside
Custom-built by Ken Arnold in 1998
305 Small Block Chevy V8
Hooker Headers with Camaro Exhaust Tips
TH350 Automatic Transmission
Corvette Independent Rear Suspension
Camaro Alloy Wheels - Fronts Are Custom-Narrowed to 6.75", Rears are 8"
225x50x16 Radials in Front with 245x50x16 in Rear
Rear Adjustable Air Shocks
MSD Custom-Length Plug Wires
Lemonwood Yellow Paint
Shaved Stake Bed Pockets and Gas Filler Door
96" Wheelbase - Rear Quarter Panels were modified to center the rear wheels
3rd Brake Light
Custom-Made Air Scoop under front bumper
Direct feed Gauges - Oil Pressure, Water Temp & Volts
Corvair Bucket Seats
Corvette Center Console Shifter & Lap Seat Belts
Corvair Dash Clock That Works!
Absolute blast to drive and show!!
Dean F. Gemberling
Columbus, Georgia

63 Rampy - YELLOW - V8 Powered - Built by Ken Arnold in 1998
---
Corvair of the Month

Posts: 776
Joined: Tue Feb 23, 2010 1:54 pm
Not that I'm throwing shade.. *wink* but the sweet rampy kinda had the "air" taken out of Corvair. It's a nice water pumper though, don't get me wrong! One more day to vote for a sweet 65 Corsa! :)
---