Forum rules
Welcome to the Online People's Choice Corvair Show - Corvair of the Month.

To enter your vehicle, Reply to the current Corvair of the Month thread, include at least one high quality photo and some info on your entry (year, model, specs, etc). Each show will be limited to the first ten vehicles posted for that month. The voting will begin as soon as ten vehicles are entered or on the 1st of the month, whichever comes first. Please only post vehicles you own and only one per month. Vehicles must be Corvair or Corvair powered. If you win, please do not post the same vehicle in another month during that calendar year. If you won in a previous year you may enter again. The shows will run each month from January through September. In October we will run the "Corvair of the Year" contests. One for all vehicles 1960-1964 and a second for all 1965-1969 vehicles. In November we will have available a Calendar of all of the winners. Please note that by posting pictures in this forum you give corvairforum.com and it's owners the right to use your picture(s) in the calender and website. In order to Vote for your favorite Corvair you will have to have posted at least three times in any forum. In the event of a tie, the vehicle entered first will be the winner.
---
Site Admin
Posts: 3646
Joined: Tue Nov 17, 2009 5:21 pm
Location: Hesperia, CA
Voting Now Open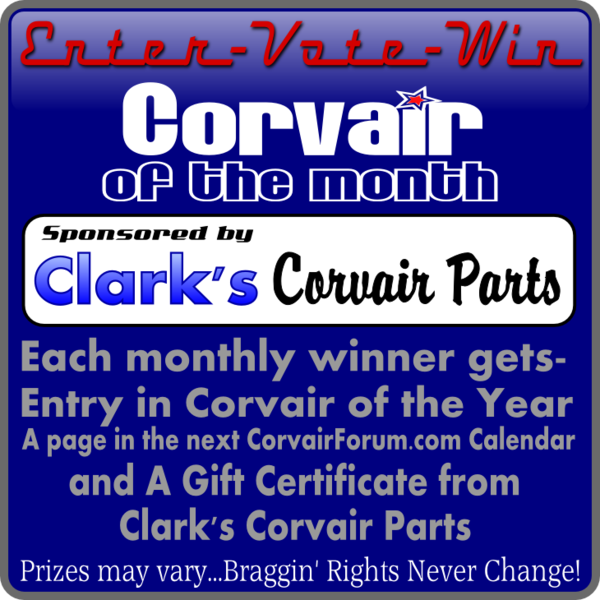 Scott
---
Corvair of the Year

Posts: 183
Joined: Wed Jun 30, 2010 7:11 pm
Location: Columbus, Georgia
Contact:
After sitting out 2015, perhaps it's time to enter my Rampside again.
1962 Corvair 95 Rampside
The previous owner was one of three friends who bought the shell and completed the resto-mod in 1986, spending over $30,000 in the process.
AS PURCHASED:
95HP with 4 speed
Custom-made aluminum dash gauge pod with Stewart-Warner gauges
Power antenna that rises from the just behind the driver inside the edge of the bed
American Racing Outlaw II wheels and 14" radials
Bedliner applied to the lower bed and ramp
Very loud air horn
Chrome vent visor window shades
MY MODIFICATIONS:
Front Disk Brakes
New Cragar Eliminator Wheels and Nexen Tires
Installed Ken Hand's FC Front Shock & Spring Kit Which Lowered the Front End
Installed Rear Light Duty Springs to Improve the Camber
New Inside Wheel Well Trim
New Carpet
Added New Arm Rests
Recovered the Bench Seat
Replaced old failing Pioneer AM/FM/Cassette stereo with Sony AM/FM/SiriusXM/USB stereo and new speakers
USB Power Pod Installed Under the Stereo
Installed 3-Point Seat Belts
Sliding Rear Window
Replaced the Failed Stewart Warner Gauges
Refurbished the Engine Bay
Installed New Front Air Deflector Along with New Fog Lights
Replaced Ramp & Tailgate Latches
Chrome Dual Harley Exhaust
Mustang Bullet Rear View Mirrors
Seth Emerson's Electronic Distributor
Dean F. Gemberling
Columbus, Georgia
63 Rampy - YELLOW - V8 Powered - Built by Ken Arnold in 1998
---
I thought I would enter my 66 Corsa convertible again, it's been awhile since I last entered it. She's a 1966 Corsa 140 hp 4 spd convertible with factory air, a very rare vair at that. I bought her in Dec of 2010 here in Phoenix, Az where she was originally purchased 50 years ago by her 1st owner. At that time she was white with a maroon interior and a black top. Her second owner acquired her in 1972 and sometime during his possession he changed the color to maroon. Well as the years passed the Az. sun had taken it's toll on the old girl. The paint got heavily oxidized, the top started to come apart and the interior was breaking down. I've always had an interest in theses cars an when the opportunity came for me to get one I jumped at it. It had taken me awhile to talk the last owner into selling it to me even though it sat in his garage for 5 years untouched and sort of forgotten. For the next 5 years it was a labor of love transforming this diamond in the rough into what she is today. She has an Aztec bronze exterior with a new Clark's white top, and a fawn and white interior (carpet and seat covers also from Clark's ) the car is virtually brand new from bumper to bumper with the exception of the motor . After I got it running it seemed to run fine no smoke and no noises, so I just cleaned it up and resealed it. Since then, she has won awards at several car shows and draws all kinds of attention. I just love driving her and hope to keep her for a long time.
1958 Chevy Impala
1966 Corsa Conv.
---
Corvair of the Month

Posts: 7556
Joined: Mon Aug 06, 2012 12:33 pm
Location: Lake Chatuge Hayesville, NC
Contact:
This is an IMPOSSIBLE choice!!!!
Both Corvairs are just EXCELLENT!
Brad Bodie
Lake Chatuge, North Carolina
1966 Corvair Corsa Convertible
---
Corvair of the Month

Posts: 776
Joined: Tue Feb 23, 2010 1:54 pm
As much as I love me some LM coupes, I had to go with that fine FC.
---
Congratulations on your win.
You have a fine looking Rampy ( pickup.)
Sent from my SM-G920V using
Corvair Forum mobile app
1958 Chevy Impala
1966 Corsa Conv.
---
Corvair of the Year

Posts: 183
Joined: Wed Jun 30, 2010 7:11 pm
Location: Columbus, Georgia
Contact:
Thanks Rondo!
For more than obvious reasons, I sincerely dig your 66 convertible!

Dean F. Gemberling
Columbus, Georgia
63 Rampy - YELLOW - V8 Powered - Built by Ken Arnold in 1998
---