Forum rules
Welcome to the Online People's Choice Corvair Show - Corvair of the Month.

To enter your vehicle, Reply to the current Corvair of the Month thread, include at least one high quality photo and some info on your entry (year, model, specs, etc). Each show will be limited to the first ten vehicles posted for that month. The voting will begin as soon as ten vehicles are entered or on the 1st of the month, whichever comes first. Please only post vehicles you own and only one per month. Vehicles must be Corvair or Corvair powered. If you win, please do not post the same vehicle in another month during that calendar year. If you won in a previous year you may enter again. The shows will run each month from January through September. In October we will run the "Corvair of the Year" contests. One for all vehicles 1960-1964 and a second for all 1965-1969 vehicles. In November we will have available a Calendar of all of the winners. Please note that by posting pictures in this forum you give corvairforum.com and it's owners the right to use your picture(s) in the calender and website. In order to Vote for your favorite Corvair you will have to have posted at least three times in any forum. In the event of a tie, the vehicle entered first will be the winner.
---
Site Admin
Posts: 3646
Joined: Tue Nov 17, 2009 5:21 pm
Location: Hesperia, CA
VOTING Now Open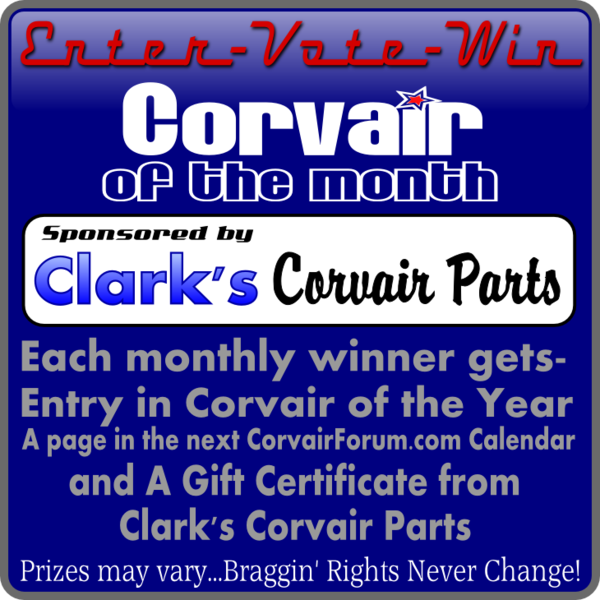 Scott
---
Here is my 1962 Greenbrier.
It has a 4 speed and a previous owner placed a '64 3.27 posi differential in it.
It's always fun to drive, and this particular day I was parked in front of the Swope Cars of Yesteryear in Elizabethtown, KY.
I've had her for 5 years, and is by far the best Greenbrier I've ever had.
Thanks!
Lon Anderson
White Mills, KY

---
Posts: 20
Joined: Thu Jul 01, 2010 11:41 am
Location: Edmonton, Alberta, Canada
Below are photos of my 1966 Monza Sport Sedan, 110 HP, automatic, Aztec Bronze. It was produced at the Oshawa, Ontario, Canada GM assembly plant. According to GM Canada Vintage Vehicle Services it was produced in February 1966 and was one of 730 1966 Monza sedans produced for sale in Canada at the Oshawa plant. It was purchased new at an Edmonton, Alberta, Canada Chevrolet dealership in May 1966 and has lived in Edmonton since then. I have owned it since September 2008.

The previous owner had the body repaired and repainted in 1992. In 1993 mechanical work was done including: engine was disassembled, cleaned and reassembled with new seals and gaskets; transmission was drained, checked and the pan resealed; torque converter was removed and replaced with new seal; front wheel bearings were repacked; steering box was repacked; minor electrical issues were repaired; and window fuzzies and some weather stripping were replaced. The body is all steel with no rust. Since purchasing the vehicle I have rebuilt the carburetors and replaced the engine wiring, door weather stripping, gas tank, springs, shocks, upper ball joints, idler arm, and most of the nuts, bolts and bushings on the undercarriage. I also added an Ignitor II electronic ignition and Flamethrower II coil, 14 inch Oldsmobile Rally wheels, Falken radial tires, after market AM/FM retro radio, rear speakers and a centre console. All parts with the exception of the wheels, tires, radio and speakers were purchased from Clark's Corvair. The odometer shows 83,000 miles.

Doug
---
Posts: 2
Joined: Sat Dec 26, 2015 10:35 pm

This a 1968 Monza custom corvair with new seats ,carpet different paint.
---
Posts: 417
Joined: Sat Mar 13, 2010 3:06 pm
Here are two photos of my 1966 Corvair Monza Sport Coupe. It has a four speed transmission. The engine, which was originally a 110, has been modified with an Isky 280 cam, Grant Young performance carbs, ported heads, small block Chevy valves and springs, 140 exhaust tubes, and a low-restriction exhaust system of my own design. It also has quick ratio steering, inertia reel safety harnesses, and a few other items. The wheels are 15x6 Rocket Ignitors with Yokohama 205/55 S-drive tires. I have driven it in several Northeast Corvair Council (NECC) events, including time trials, drag races and autocross as recently as last September. In its prior life, it was entered in ice races and driven at Lime Rock where it was the lap time record holder in NECC's street stock class. Plucked from a chicken coupe, it was in rough condition back then, so the owner stencilled "LeHeap" on the rocker panels in a play on the Renault LeCar! It's come a long way since then!

---
Corvair of the Month

Posts: 776
Joined: Tue Feb 23, 2010 1:54 pm
Well, why not..
This is my 1965 Corsa clone that started life as a 3 speed 110 Monza, white with a red interior. During it's restoration, the interior was converted to black with custom cloth-insert seats, and the full Corsa treatment. The heads were ported and polished, a custom equal-length pipe "Big single" exhaust with a turbo-style cut-out of the body to accommodate it, a 280 Isky cam, forged pistons and Total Seal rings, Clark's oil pan and valve covers.
Since I have owned it, I have:
replaced the weatherstripping, added an internally-regulated powder coated alternator, had all engine tins powder coated black, added a Facet electric fuel pump with the fake fuel bypass plate so the fuel system still looks stock, and just last week, new Clark's molded carpet. Also added DynaMat behind rear package area, and removed a sheet of fiberglass that was in there for sound suppression. (I'm still itching)
Also adding full electronic engine controls but that is still a work in progress.
Engine is sitting on the floor today while I chase down 2 oil leaks, Both have been identified and the flywheel bolts have been re-sealed and the crankshaft pulley seal is in my hot little hands right now, will be installed tonight, and engine going back in tomorrow morning.
She needs a paint job, but looks good from 8 feet away.
Someplace to lay out the carpet after shipping and before installation.
DymaMat and engine control system, along with 2 6x9 speakers that fill the rear cargo area below the rear window. It is hinged for easy access.
Another shot of the speaker mount and rear area filler: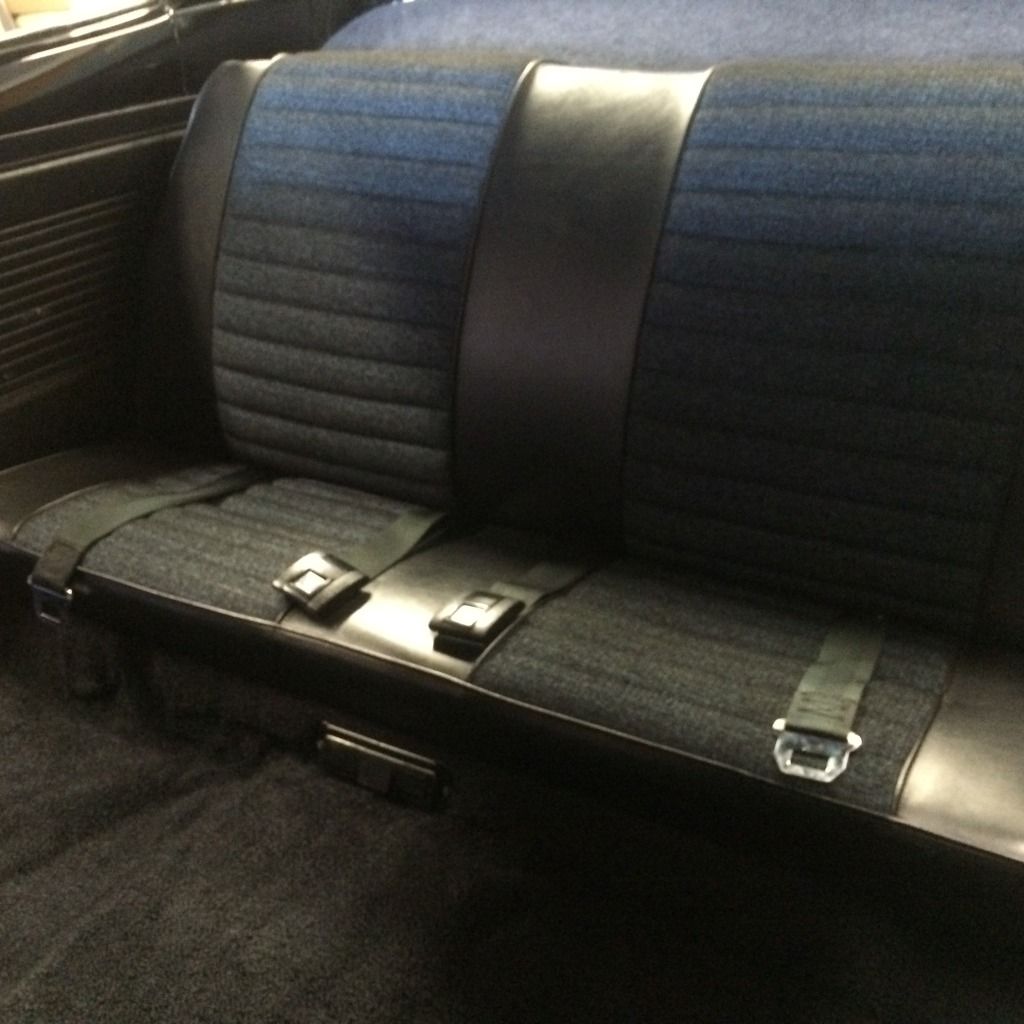 Rear carpet installed and seat put back in, and you can see the filler I put in to cover that area below the rear window.
The money shot of the new carpeting, lots of trimming, but it fits very well.
The new internally-regulated alternator installed with the new bracket I fabricated to attach to the relocated bolt hole.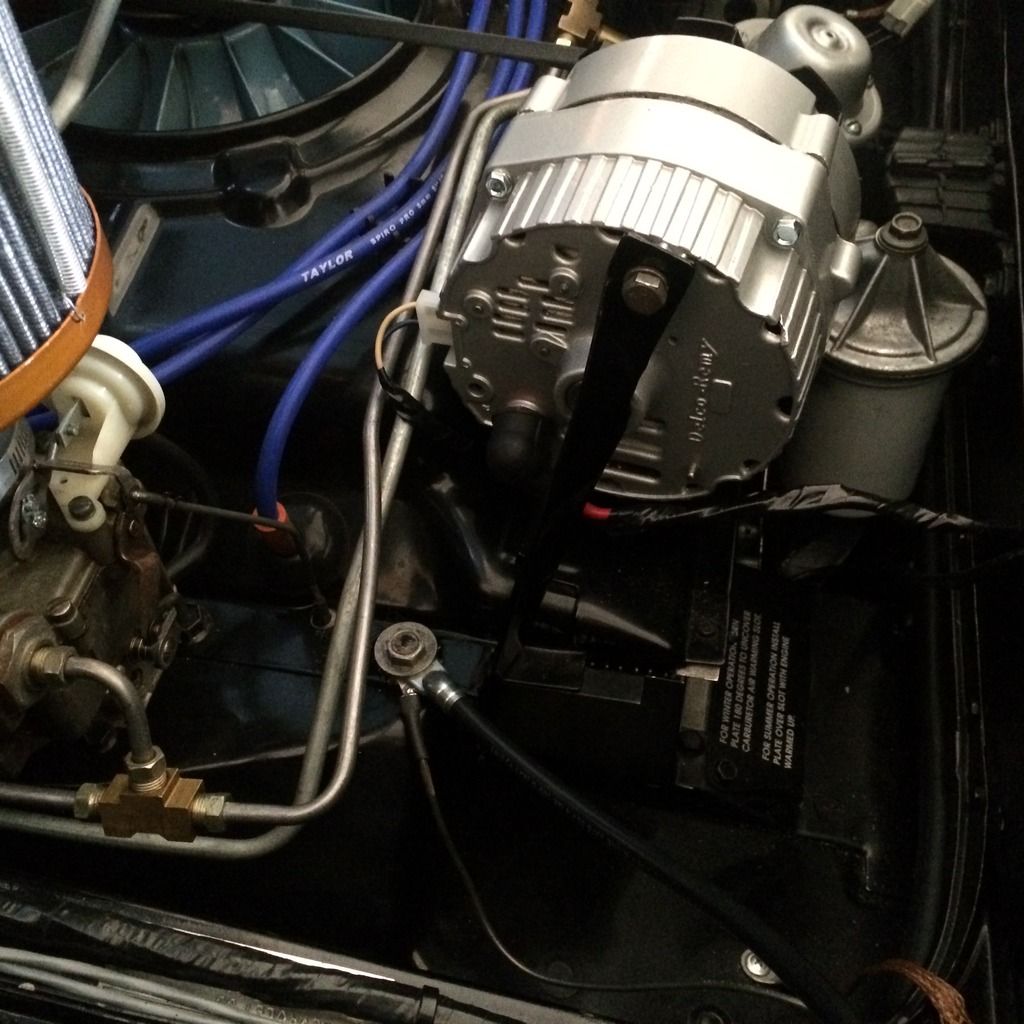 Engine compartment:
Side view: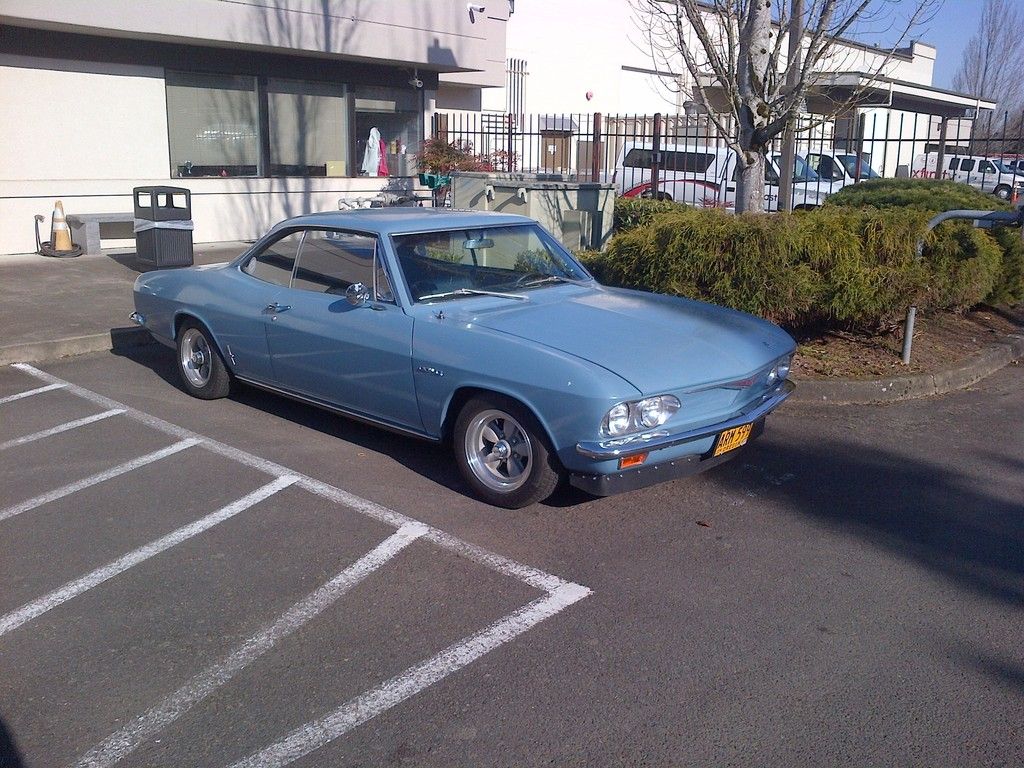 Custom exhaust cut-out like a turbo guy:
Thanks for looking, vote for my Corsa clone!
Make "ME" feel great again!

---
Posts: 42
Joined: Tue Nov 13, 2012 9:43 pm
Location: Scottsdale, AZ
Contact:
I would like to submit our 1966 Corvair Monza convertible for the C-O-M. It is a CA & AZ car, Aztec Bronze exterior, Bronze interior, black convertible top just like the trim tag indicates. It is a 110h.p. 4 speed, I rebuilt the engine in 2015, 60 over forged pistons, etc.
New h.d. flywheel, clutch / PP & throw out bearing, rebuilt heads and carbs. Repainted in 2013 and interior restored in 2013. AM push button radio, even the clock works! 13" white wall tires & wire wheel hubcaps. Upgraded Triple gauges, Oil temp / dual CHT / Oil pressure, distributor and 90amp alternator. Check out the pics at
https://flic.kr/s/aHsjVjrnq4
Thanks for your consideration!
Chuck Roderique
"Life is too short to drive a boring car"
1966 Corvair Monza Convertible, 110 H.P. 4 sp, Aztec Bronze with Bronze Interior
---