Forum rules
Welcome to the Online People's Choice Corvair Show - Corvair of the Month.

To enter your vehicle, Reply to the current Corvair of the Month thread, include at least one high quality photo and some info on your entry (year, model, specs, etc). Each show will be limited to the first ten vehicles posted for that month. The voting will begin as soon as ten vehicles are entered or on the 1st of the month, whichever comes first. Please only post vehicles you own and only one per month. Vehicles must be Corvair or Corvair powered. If you win, please do not post the same vehicle in another month during that calendar year. If you won in a previous year you may enter again. The shows will run each month from January through September. In October we will run the "Corvair of the Year" contests. One for all vehicles 1960-1964 and a second for all 1965-1969 vehicles. In November we will have available a Calendar of all of the winners. Please note that by posting pictures in this forum you give corvairforum.com and it's owners the right to use your picture(s) in the calender and website. In order to Vote for your favorite Corvair you will have to have posted at least three times in any forum. In the event of a tie, the vehicle entered first will be the winner.
---
Site Admin
Posts: 3646
Joined: Tue Nov 17, 2009 5:21 pm
Location: Hesperia, CA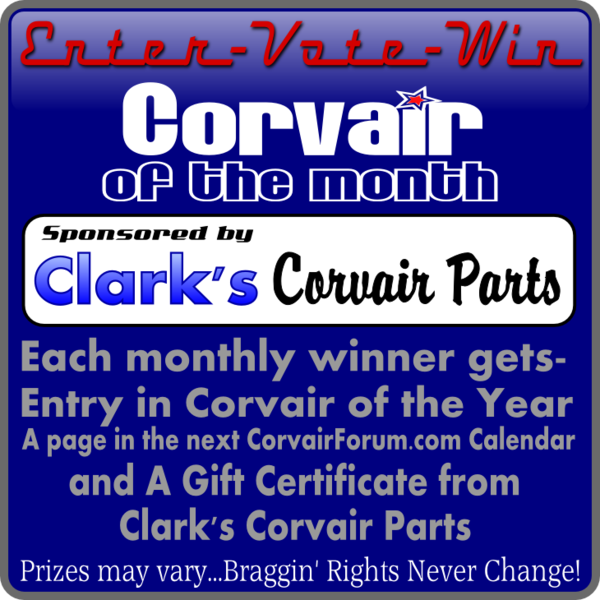 [/center]
Scott
---
Ok, Will enter my Lakewood this month. Attached is a video by the owner of the car who sold it to someone in IN who then listed it for sale using the same video. It is a nice drive around video and shows the car off well. The Wire wheel covers are gone. Correct NOS trim rings and dog dish caps installed now. Also, have added the fold down board behind the seat. Detailed the engine compartment and put a 64 Diff in it so it has a speedo cable hook up now.
It has a 66 110 w/PG.
And I have adjusted the lifters! New muffler too.
Rear NOS arm rests are on and front ones will be on by Helen.
https://www.youtube.com/watch?v=mQWaw46cLr8
And a couple pics at the Choo Choo Event in Chattanooga along with from other events.
Last edited by
TexasAg77
on Tue Mar 08, 2016 2:01 pm, edited 2 times in total.
---
Corvair of the Month

Posts: 7555
Joined: Mon Aug 06, 2012 12:33 pm
Location: Lake Chatuge Hayesville, NC
Contact:

That appears to be one nice 1961 wagon! For convenience I went ahead and embedded the YouTube video in your post. If you edit your post you can see how it is done, using the "share_youtube" feature and embedding the URL from the YouTube web page. (Be sure to use the "Share" URL that appears when you click on the word "Share". Do not use the URL at the top of the screen that is displayed by the Web browser. The correct URL source location is displayed in the screen capture below).
The upgrade to a 1966 110 hp engine makes sense, since it provides more horsepower and torque, an alternator-based charging system, a very reliable 110 hp engine, a PCV system instead of a road draft tube, and improved carburetors with automatic choke and the newer distributor design. It should be a reliable setup. Has the distributor been upgraded to utilize a breakerless ignition (Crane or Pertronix), or are you still using ignition points? Such an upgrade can increase reliability even further.



Brad Bodie
Lake Chatuge, North Carolina
1966 Corvair Corsa Convertible
---
Brad, Put a Pertronix II on it right after I bought it. Funny thing, the coil died at K'noxville on the way to check out the Hiwassee Park location. Got it back, diagnosed it, walked into Clarks and bought one. Then the P-II died the next month. Changed it out and been running fine since. I go no where without a coil, P-II and a belt. Cheap insurance policy!
---
Posts: 1
Joined: Mon Jan 25, 2016 1:38 am
This is my 1965 Monza. 110HP with a powerglide. I have drove this vair to Kalamazoo and Knoxville to compete for the Ed Cole award.
---
My 1966 Yenko Stage 1 tribute. Not a real YS so had some fun with Cameo beige and a Black stripe/light fawn interior. 140/4speed. With work to engine. Thanks to my sons Zac and Brandon for 7 years of help. Ken Hand, Virtual vairs and Clarks! Steve Till
Last edited by
still66
on Tue Jan 26, 2016 7:15 am, edited 2 times in total.
---
This is my 1966 corsa turbo,4spd.I bought this car back 21 yrs ago then sold it to a coworker after driving it for four years,he called me recently and asked if I wanted to buy it back,ummm yeah!!so after lots of work it's looking pretty good!!!
Attachments

IMG_628763491484027.jpeg (41.07 KiB) Viewed 1527 times

FB_IMG_1453788871408.jpg (23.39 KiB) Viewed 1527 times

FB_IMG_1453788934783.jpg (21.16 KiB) Viewed 1527 times

FB_IMG_1432497018009.jpg (16.41 KiB) Viewed 1491 times
1960 500 coupe 3spd
1960 700 sedan pg.
1962 Monza coupe 4spd.
1962 spyder convertible
1964 Monza coupe pg.
1964 Monza convertible 4spd.
1966 corsa coupe turbo
---