Posts: 5
Joined: Wed Apr 26, 2017 7:56 am
Hi I'm new to posting to the forum but far from new to corvair world. I recently rebuilt a Judson I had for 5-6 years. I also rebuilt the Carb a Holley 2110 basically a 94. I'm driving it and it is a lot faster than the stock 110 engine in my 64 Monza Convert, 4 speed. I didn't intend to do a tech session here suffice it to say I was expecting it to be quicker than my 65 Corsa 4 Rochester set up. But realize its adding "only" 40HP or so. Now I didn't time it so cant give you statistical data going by my impressions /experience. One thing is engine bay is fun to look at! It idles horrendously fast warming up. I have tweaked it down to maybe 800 rpms. They make a horrendous clacking noise when idling, at speed it disappears, a side effect of vane compressers. Im working on a nasty bog it has. I'm thinking the power valve in the kit which didn't look like the original one, is feeding too much fuel. Getting some black smoke when gunning it. Appreciate anyone that knows a member with a Judson setup
. Enjoy the picture! Bob, Phila. Corvair Assoc.
You do not have the required permissions to view the files attached to this post.
---
Corvair of the Month

Posts: 9266
Joined: Mon Aug 06, 2012 12:33 pm
Location: Lake Chatuge Hayesville, NC
Contact:
A rarely seen upgrade! I found this article below and transcribed it here for your info...

Marcus Miller's Supercharged '64

The well chronicled history of Marcus Miller's modified '64 Corvair began on November 4th, 1963, at Mahlon Maxton Chevrolet in Worthington, Ohio. Marcus has the original purchase order bearing his father's name, Myles Richard Miller, and the date, November 4, 1963. The car, VIN 40967W159055, was a Meadow Green 1964 Monza convertible with black top and interior, built at the Willow Run plant.

The Monza was less than a week old when the photo at right was taken. It was equipped with an array of options including a 110 horsepower engine, 4-speed transmission, manual radio, seat belts, padded dash, comfort and convenience group, tinted windshield, oil bath air cleaner, simulated wood grain steering wheel and white wall tires. The options contributed $307.05 to the total purchase price of $2,575.70.



Mr. Miller and his Monza moved to El Paso, Texas, in 1967. After enjoying 125,000 trouble free miles of service from the original engine, he swapped in a 150 HP turbo-charged Corvair engine salvaged from a low mileage Monza Spyder that had been written off in a front end collision.

In 1976, Mr. Miller gave the car to his son for his 16th birthday. When Marcus opened the hood and gazed on the turbo-charger, he knew he had something special. Over the next few years, he and his father built up a collection of 12 Corvairs and a wide assortment of option parts including early and late model A/C kits, wood grain steering wheels, Corsa and Spyder dashes, etc. This eventually led to the conversion of the Monza to Spyder trim in 1991.

Later, in 1996, Marcus had the car restored and repainted by childhood friend, Ralph Barron III of ACE Body Shop in El Paso, Texas. He also decided to retire the turbo-charged engine and replace it with a 110 engine with a twist. There was something lurking in the parts stash, and curiosity loomed large!

The Judson supercharger pictured at right had been in the Miller family cache for 26 years when, in 1996, Marcus finally decided to install it. Fortunately, in 1979, he'd had the foresight to obtain written installation instructions from Judson. He credits two very knowledgeable Corvair people for help in making the unit work. One was Harlan Colburn of the V-8 Registry. (See the V-8 Registry feature in the "Extra!" section.)



Harlan offered much useful information, which he obtained from experience with running dual Judson blowers on a Corvair engine.

The other Corvair man Marcus contacted was Steve Goodman of Rear Engine Specialists, Inc, in Golden, Colorado. Steve remembered the Judson set-up from working on it years earlier, and he helped to "dial in" the carburetor and get the car running well. Experience has no substitute!



The Judson blower is driven by a fan belt attached to a special crank pulley included in the kit. It uses a single carburetor and a cross-over tube to feed the cylinder head on the driver's side.

"Everyone asks about the Mason jar with the red fluid," says Marcus. "The supercharger spins on a center shaft which has sealed bearings at each end. The Judson uses a 'Marvel Mystery Oil' vacuum oiler to reduce friction, heat and wear. The oiler has an adjuster and window which is set to drip one drop of oil every 4 seconds at idle. The small amount of oil is ingested by the engine, and burned."

Asked whether he thinks the 110 HP engine with the Judson supercharger is stronger than the 150 turbo engine, Marcus says he'd like to find out by running heads up with one.

The restoration, new paint and Spyder trim worked out nicely for the '64, as we can see in the pictures, right and below.

Unlike the turbo-charged 150 and 180 Corvair engines, the supercharged Miller engine makes use of a dual exhaust system.

It's a little difficult to read... the bumper sticker says, "Ralph Lied." Makes me smile.





Marcus says he at one time had the attitude that the early model (1960-'64) was the "real" Corvair, although he always loved the lines of the late model, and believes it is one of the finest looking cars ever produced.

Miller stands next to his latest Corvair project, a 1965 Corsa sport coupe with a Crown Corv-8 conversion. It's equipped with a 1969 350 cu. in., 4-bolt main bearing small-block V-8, a close ratio Saginaw trans-axle with a 4-spider rear end, and Camaro Z-28 wheels and low profile tires.

"I've driven late models with the164 CID engine," he says, "and they're lively and fun to drive, but this 350 is a neck jerker, and FAST!"




For details on Crown Corv-8 conversions, visit the "Corv-8" section of this site, on the navigation bar, below.

Photos by Marcus Miller

https://corvaircorsa.com/miller01.html
Also read the attached Lehigh Valley Corvair Club (LVCC) March 2013 newsletter entitled Supercharging the 'Vair...
Finally...
HEMMINGS MOTOR NEWS
Judson Superchargers
A FUN, PERIOD-CORRECT POWER ADDER -- FOR HOT RODS AND IMPORTS ALIKE
By Jeff Koch from the November 2010 issue of Hemmings Motor News

https://www.hemmings.com/blog/article/j ... rchargers/
Left-click image for better reading. Click a second time for maximum enlargement.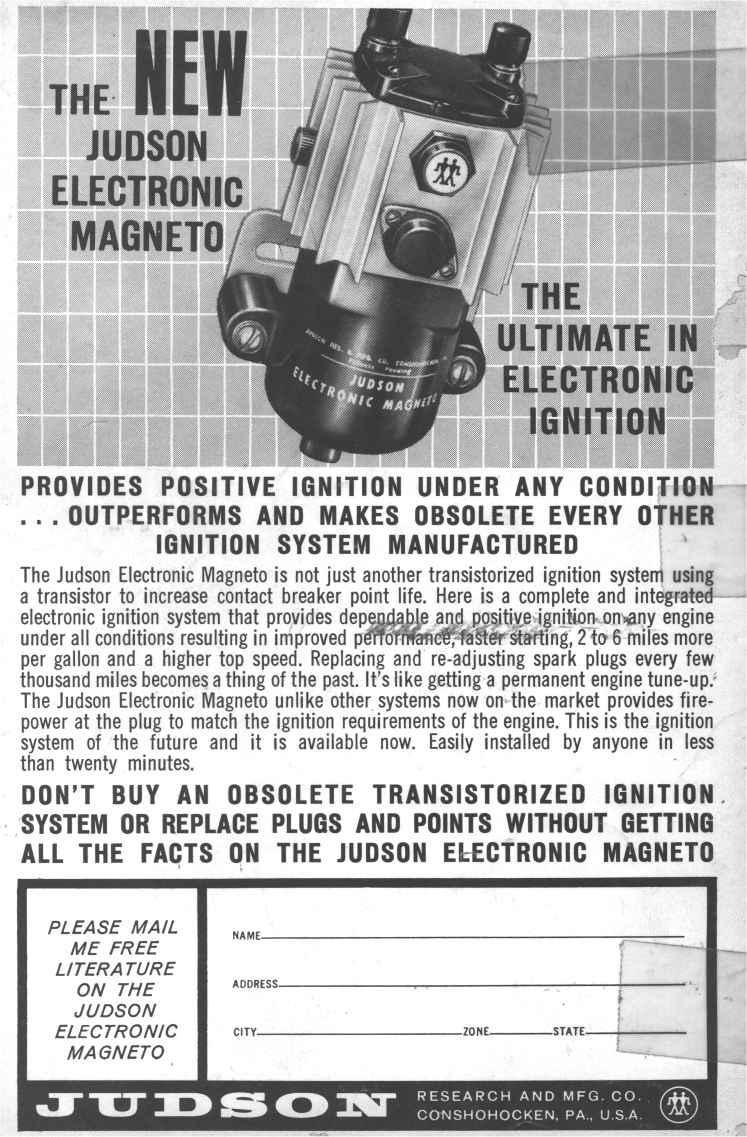 You do not have the required permissions to view the files attached to this post.
Brad Bodie
Lake Chatuge, North Carolina
1966 Corvair Corsa Convertible
---
Posts: 2363
Joined: Sun Apr 04, 2010 10:03 am
Location: Hesperia, CA
Cool post. I've always wondered how these performed. I once had a Judson supercharger but never installed it. I'd love to know what their boost tops out at.
---
Posts: 138
Joined: Mon Apr 29, 2019 1:51 pm
My father had this setup on his 61 Monza 4sp. He said he got 2-4 lbs. Of boost. Very little difference in performance from stock. It did show its value at speed for passing. It also has a wow factor when you look under the bonnet. The wow factor wasn't enough for him because he later purchased a new 64 spyder convertible. With some simple mods and Bill Thomas heads he had has dream car. It was a rocket.
---