Welcome to the Corvair Forum!
Here is some material on posting pictures on the Corvair Forum. Please let me know if you have any questions...

Photographs can be hosted on other public websites, and then shared here using the photograph image URL. Facebook is another URL source option.
Alternately, individual photographs can be uploaded directly to the Corvair Forum from a computer hard drive, thumb drive, etc.
If you are not familiar with posting pictures on the Corvair Forum, here are some guidelines. I wrote these instructions a while ago to try to help new members of the Corvair Forum with posting pictures. There are two methods. Hopefully these guidelines will help you...
To be able to post pictures, always use
POST REPLY
— not
QUICK REPLY
— to open the full-featured editor.
There are basically two ways to post a digital photograph on the Corvair Forum. The first, illustrated below, involves inserting an image URL address between two Img markers. The URL image address is copied from an existing picture on the Internet. The source image can be another picture already on display within the Corvair Forum, or it can be just about any picture, artwork, or graphic image that is publicly viewable by anyone on the Internet. You simply need to copy the source image URL temporarily to the computer "clipboard", and the paste that URL address within the text you are writing on the Corvair Forum (between the two Img markers). Once you have posted your text, the Corvair Forum software will simply grab the image from the source URL and will display it embedded within your text (at the location where you embedded the Img markers and source URL).
For example, I am embedding the First Place

and Avatar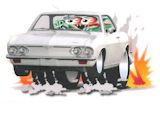 images to the left of this post within the text here by copying their URL addresses between two Img markers.
Here is what the above text looks like unsaved...
Maybe this illustration will help...
You can manually copy images and pictures from other Corvair Forum posts that were embedded as uploads by right-clicking each image in the source with your right mouse button and selecting
Copy image URL
from the menu choices. Doing so will invisibly copy the image URL address to the computer temporary data buffer called a
clipboard
. Using the
Img
button at the top of the editor screen, and the standard PC copy and paste technique will allow you to paste that URL address data from the clipboard into your Corvair Forum text (surrounded by bracketed img markers), which will display as the original picture or image when the post has been saved for display. It illustration below depicts the process.
Click on image to enlarge for better viewing...
NOTE: This same technique will allow you to copy just about any graphic, photo, or other displayed image from any public website, Facebook, or other website that is not secured and is publically viewable by right-clicking the desired image, obtaining the image URL, and then pasting the URL with Img markers into your Corvair Forum text.
=========================================================================
The other method of embedding pictures involves uploading the images that you have physically stored on your computer. Simply scroll down in the editor where you will see
Options
and
Attachments
tabs. Click on the
Attachments
tab and then click on the
Add files
button. You can use the file manager to then navigate to desired photos on your local drives. You can select one file at a time to upload, or you can select multiple files in the same folder by holding down the Ctrl button on your keyboard while clicking on desired files with your mouse. When the file or files have been selected, click
Open
at the bottom of the file manager window to upload the file(s) to the Corvair Forum. When the uploaded file(s) are listed, you can use the
Place inline
buttons to embed the photo(s) in the desired locations by positioning your cursor first and then clicking on the
Place inline
button(s)
The embedded photos will become visible when you click on
Preview
or
Submit
. The pictures you upload will not be visible as photographs until you click on
Preview
or
Submit
.
=========================================================================
There is also an online help section on the Corvair Forum. See...
How to post a picture (and start a new topic)
CorvairForum Site Topics ‹ Site Specific Topics ‹ Site Features and How to Use Them ‹ How to post a picture (and start a new topic)

viewtopic.php?f=196&t=618
The link below will provide you with a list of useful websites that are Corvair-related. Some of the links will lead you to an extensive technical library that will allow you to download shop manuals and other technical references in
Adobe Reader
format at no cost. There is also a link that will help you to locate nearby CORSA (Corvair Society of America) club chapters. While the Corvair Forum can be very helpful as you work on your Corvair, having local friends and contacts in your region who are knowledgeable about the Corvair can also be very helpful. These family-friendly CORSA chapters often offer picnics, group scenic drives, technical training and assistance, car shows, and competition events that can greatly enhance your enjoyment of Corvair ownership. You will also find a list of essential Corvair parts suppliers. Clark's Corvair Parts is the biggest and oldest Corvair supplier in the world. You will find a link that can provide you with a series of videos that amount to a tour of the Clark's Corvair Parts facilities. I think you will be amazed at the quality of the reproduction components they offer — particularly the interior carpeting and re-upholstery items. Parts suppliers such as this truly make our Corvair hobby possible.
Common and Useful Corvair Websites

viewtopic.php?f=225&t=6007
There are two CORSA club chapters in Kentucky, if you are interested...
Derby City Corvair

http://home.insightbb.com/~derbycitycorvair/
Central Kentucky Corvair Enthusiasts

http://kycorvair.org/

I would like to encourage you to expand on your initial post and tell us more about yourself. If you can describe your personal assessment of your mechanical skills and abilities, that would help a lot. Members of the Corvair Forum love to be helpful in assisting other Corvair owners with technical support and advice, but it helps a lot if we have some understanding of your technical background and mechanical abilities, Corvair-related knowledge, etc. Helping us to know more about you will help us to write comments to you that are tailored to your needs and experience. Knowing your location is also useful, because knowing where you live can sometimes suggest possibilities.